GMA Guest Host Ann Romney Speaks About Her Love Of Horses: 'They're A Gift From God'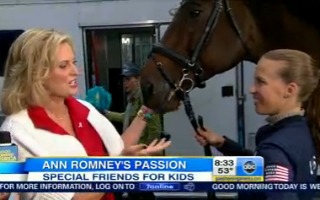 Ann Romney filled in as guest host on Good Morning America Wednesday, where the multi-tasking wife of Republican presidential candidate Mitt Romney 1) caught a football, 2) cooked up breakfast for her co-hosts, 3) conducted an interview, 4) spoke eloquently about her experiences with horse riding therapy, and 5) participated in a potentially fatal cooking segment with actor Stanley Tucci… while the cast of Jersey Shore manned the control room. Morning shows: Always a touch of the surreal.
Romney had a bit of a "cooking emergency," as she put it, when she burnt a batch of Welsh cakes on a too-hot griddle. She handled it with aplomb, however, and the show's hosts seemed to enjoy the treats just fine. Have a look:
Later, Romney participated in a very sweet, personal interview with a young Paralympian named Becca who shared her love of horses and who, like Ann, used riding as physical therapy after being diagnosed with a genetic disorder that results in the degradation of her muscles.
Romney has long been candid about her struggle with Multiple Sclerosis and with the therapeutic role horseback riding has played on her path to health:
It's so extraordinary, what horses do for us. For me, it's again, it's balance. It's love. It's joy. What they're doing for so many other people right now. We have wounded vets coming home and they're turning to horses for therapy. We have kids with autism, Asperger's. They get on a horse, and all of sudden, their life changes, they become strong and confident. But horses, they're a gift from God, is the way I look at it. And they're a partner in our life journey. And they can bring such joy.
Check it out, via ABC:
Have a tip we should know? tips@mediaite.com