'Go F*ck Yourself': Stewart Bashes AIG for Whining About Unfair Treatment in Gov't Bailout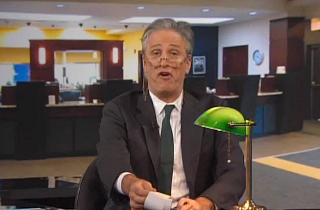 With the news that AIG executive Hank Greenberg is suing the U.S. government over the massive bailout given to the insurance giant in 2008, Jon Stewart used the first segment of Thursday's Daily Show to chronicle the absurdities of such legal action.
The lawsuit alleges the government's $184.6 billion bailout was an illegal "taking" of sorts, exceeding the government's authority. Greenberg believes that bailout money, which bought 92% of the company, was an unfairly low valuation. Even though Stewart pointed out that, at the time of the bailout, AIG was only valued at $15.4 billion, the CEO's lawyer alleged that the government's actions were tantamount to "extortion."
"As a general rule, your better extortionists, your better kidnappers extract money from their victim," Stewart mocked. "You never hear this — 'Hey, listen, if you ever want to see your precious little doggy again, you're going to take the $184 billion and once you get the money, we will also give you your dog back!"
Stewart also noted that AIG seems to think Citigroup and Morgan Stanley got better deals out of the bailout, leading him to boil down the company's argument to: "Wah! It's not fair. Following the precedent set by the famous Supreme Court case I only got one cookie. My sister got two cookies!"
After all, the Daily Show host continued, "putting the screws to people in their lowest moments is what you do." Just to hammer home his point, Stewart played the role of a local loan officer, asked to evaluate Hank Greenberg's desire for more than $184.6 billion in exchange for 90% of a company worth only $15 billion, as if it were a normal person asking for such money.
His final decision? "Go fuck yourself."
Watch below, via Comedy Central:
Have a tip we should know? tips@mediaite.com