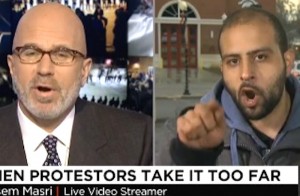 Ferguson activist Bassem Masri returned to CNN this morning, after having a very contentious face-off with Brian Stelter earlier this week. This time, Masri faced off with Michael Smerconish, who challenged him on whether he thinks his heated rhetoric is helping the situation in Ferguson one bit.
"I don't think we should be looking at citizens," Masri said, "about how they react towards their public servants. It should be the other way around."
Smerconish asked him how exactly he can reconcile his attitude toward the police and the fact that Michael Brown's father (alongside President Obama and Eric Holder) has called for peace in Ferguson. He was referring to Masri being part of a group that attempted to shout down a live CNN report last month. Masri said he's been "very calm" since then and assured there will be no violence, no matter what the grand jury decides.
That being said, Masri rather adamantly talked about what he believes happened the day Officer Darren Wilson shot Brown, and Smerconish confronted him about "rooting for an outcome." They fought for a bit and Masri challenged Smerconish over the media's priorities:
"There's blood on the street and you're worried about words. Come on, man! That's what journalists are missing right now. Why don't you go investigate something real?… Why don't you worry about us getting killed?"
He also told Smerconish, "You can't tell our community how we are going to react."
Watch the full, heated exchange below, via CNN:
[image via screengrab]
— —
Follow Josh Feldman on Twitter: @feldmaniac
Have a tip we should know? tips@mediaite.com
Josh Feldman - Senior Editor