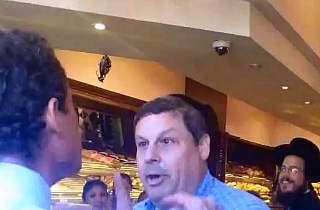 The Anthony Weiner Meltdown Tour 2013 continues.
While visiting a kosher deli in New York City today, Weiner blew up on a constituent who derided the mayoral candidate, calling him "disgusting" for his various sexual indiscretions made public.
"You have the nerve to even walk around in public," the unidentified man says as Weiner comes back into the building to confront him face-to-face (while chewing on some food).
"And you're a perfect person? You're my judge?" an angry Weiner fired back. "What rabbi taught you that? What rabbi taught you that you're my judge?"
"You're fine," the man replied, "you talk to God and work out your problems, but stay out of the public eye."
"It's not up to you to judge," Weiner said, prompting the other man to assert that as someone "out there in public… running for office," the candidate is open to judgment from voters.
From there on out the battle got more intense, with each participant clearly talking past one another. At one point, Weiner told the man to go visit with his rabbi to learn a bit more about who actually has the right to judge (Hint: it's God, says Weiner).
Watch the full confrontation below, via YouTube:
UPDATE: Weiner's press team sent out a fuller version of the exchange which shows the unidentified man calling the mayoral candidate a "scumbag," pointing out, in particular, that he is "married to an Arab." Watch below:
[h/t Becket Adams/TheBlaze]
— —
>> Follow Andrew Kirell (@AndrewKirell) on Twitter
Have a tip we should know? tips@mediaite.com