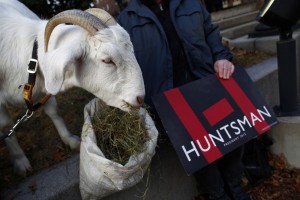 Jon Huntsman has won the all-important goat vote in New Hampshire. Huntsman was busy campaigning in the hinterlands of the Granite State, when he encountered Izak the goat, who hauled off and bit the former Utah governor. Despite the incident, Izak's owners said the goat told them to endorse Huntsman. "Winning over Izak was as hard as winning over the average voter," Huntsman said.
"It brings out a humanity in the candidate when they're not doing something prepared and can only be spontaneous," said Judy Hammond, Izak's owner.

Huntsman said such a test is one he expects to see "only in New Hampshire." He first mentioned the goat Sunday night when he said that Izak bit him on the knee the first time he met him.
RELATED: Jon Huntsman Rips Mitt Romney At NBC News/Facebook Debate
"Izak is very good at judging people," said the goat's owners. "[Huntsman]'s a down-to-earth person."
According to reports, Izak is a very important litmus test.
"Not only are voters hard to win over, but goats are hard to win over too," Huntsman quipped.
"While Izak cannot vote, he is a symbol of the unusual style of politicking that New Hampshire requires of its candidates," reported WMUR's Tiffany Eddy. "While Jon Huntsman hopes he's not only proven himself to Izak, he's also proven himself to those hard-to-reach voters."
Watch the report on Izak the goat and Jon Huntsman below:

(h/t Jonathan Martin)
(Ed. Note: The original title of this story was shortened from 'Feel-Good Story Of The Election? Goat Bites Jon Huntsman, Winning Over The Hearts Of Its Owners' for purposes of space on the site)
Have a tip we should know? tips@mediaite.com