'God Bless America': Maddow Fully Takes in How Crazy Trump as GOP Nominee Really Is
'God Bless America': Maddow Takes in How Crazy Trump as GOP Nominee Is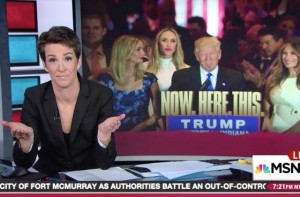 Rachel Maddow spent a little over 20 minutes starting out her show tonight by just taking in how crazy it is that Donald Trump has officially become the presidential nominee of one of two major political parties.
She ran clip after clip of fringe presidential candidates with kooky ideas from Ross Perot to Lyndon LaRouche to George Wallace, explaining that while the class of candidate Trump represents is not new to us, the success of such a candidate really is.
She made it clear that this is the first time a candidate tons of people have considered inconceivable as president "did it, and he did it without breaking too much of a sweat."
"The Republican party, it turns out, is made of sugar," Maddow said, "and it's raining, and boy did it fall apart fast."
After going over the fact that the man who played up a JFK assassination conspiracy theory will now be getting classified CIA briefings, Maddow laid out the severity of what just happened:
"What has never happened before is that one of the two parties in the two-party system of the oldest and most successful major democracy on earth… one of the two parties in that system, in our political system, somehow became vulnerable and weak enough to be taken over this time. To lose! To lose to this guy!"
She concluded, "This has never happened to our country. This is history. God bless America."
Watch above, via MSNBC.
[image via screengrab]
— —
Follow Josh Feldman on Twitter: @feldmaniac
Have a tip we should know? tips@mediaite.com
Josh Feldman - Senior Editor