Going Parliamental: Canadian MP Calls Environment Minister 'Piece Of Sh*t' During Question Time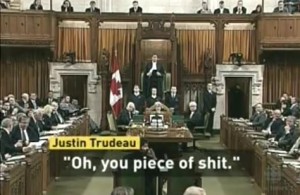 The Canadian Parliament is a lot like DeGrassi High; everything looks kinda familiar, but still not quite right. During a recent "question period," our neighbors to the north gave our own embattled US Congress a lesson in what incivility is all aboot when Member of Parliament Justin Trudeau called Environment Minister Peter Kent a "piece of sh*t" on the floor of the House of Commons.
The CBC (which, in Canada, is a TV network as well as a blood test) has the backstory:
The commotion began when NDP MP Megan Leslie was questioning Kent about Canada's withdrawal from the Kyoto Protocol.

Kent suggested that Leslie should have been in Durban, South Africa, for the recent UN climate change conference, which prompted howls from the opposition benches because opposition MPs were banned from being part of Canada's delegation at the conference.

Kent's response was interrupted by heckling, and Trudeau could be heard shouting, "You piece of shit" at the environment minister.
Trudeau apologized a few minute later.
One great detail in this story is that Trudeau's father, Prime Minister Pierre Trudeau, got into a famous obscenity kerfuffle back in 1971, allegedly mouthing the words "f*ck off" to another Member of Parliament, John Lundrigan. The elder Trudeau later copped to mouthing "'fuddle duddle' or something like that."
Looks like the apple didn't fall far from the f*cking tree.
According to the CBC, the Parliament's conservative majority likes to throw its weight around, which pushed one opposition MP over the edge. Winnipeg MP Pat Martin, frustrated by a maneuver by the majority, tweeted "This is a fucking disgrace…closure again. And on the Budget! There's not a democracy in the world that would tolerate this jackboot shit."
Put that in your Tweetdeck and smoke it.
Much is rightly made of the gridlock in Washington, DC these days, and even contrasted with scenes like this, I think the average American would be hard-pressed to decide which is more obscene.
Here's the uncensored report of the incident, from CBC:
(h/t Mox News)
Have a tip we should know? tips@mediaite.com