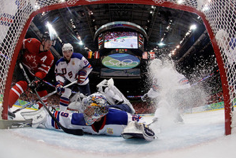 This afternoon, the two final teams left standing in Olympic hockey are having a rematch.
And this time, it matters.
It matters for Canada, host to these Olympic games in glittering, semi-wintery Vancouver, in the sport it invented, honed, and worships on a national basis virtually around the calendar — the sport that, as much as anything else, is the source of Canada's national pride.
It matters for the U.S.A., considered underdogs in this sport despite having a team filled with pro athletes with million-dollar salaries, despite winning the last match-up between the two teams, despite the killer medal count of the country atop the standings. The last time these two teams met up at the Winter Oympics, it was on U.S. home turf in Salt Lake City in 2002 — and Canada won.
So like I said, this time it matters — to both teams, and both countries, the way any big Olympic showdown matters, except more because this is hockey, and for a sport that doesn't get much love Stateside when it comes to the Olympics this is the Big Kahuna.
This game is going to have insane ratings. Non-hockey fans were taken aback not only by how awesomely exciting the game was, by the huge ratings on MSNBC for the first Canada-USA matchup. 8.2 million people tuned in last weekend to the runner-up network. Today, the game is on NBC, live across all time zones. It starts at 3:15 pm EST (12:15 pm local Vancouver West Coast time), and you can bet that millions more will be tuning in.
Why will this change the game? Well, it comes back to that whole bit about mattering. Today, hockey is getting respect. Actually, these whole Olympic games have been about respect: Respect for the artistry and athleticism that goes into figure skating and ice dancing, respect for sports like curling that have typically been the butt of jokes, respect for snowboarding and the long-haired dudes and dudettes who kill it easily and then crack a brewsky to celebrate, respect for Canada which, while still providing easy punchlines thanks to "eh" and "sorry" and our affinity for beavers, has converted even the skeptics with these games and provided some fairly thrilling moments (even if they are sometimes hard to actually see).
But back to hockey. This game is going to be super exciting — off the charts in Canada, where they're expecting something like 85% of the population to tune in — but a major event here, too. In a country where hockey is the also-ran sport (Football! Baseball! Basketball!) NHL games have suffered from spotty ratings and even spottier attendance. Now, the stars of the game are all on one team and they'll be presented to their country live and in all their glory, showcasing the sport for millions of instant fans on a sweeping, glistening, icy Olympic stage, taking to the ice furiously and fabulously in a sport that is breathtakingly fast, heart-pumpingly physical but also pretty beautiful to watch. As far as PR goes, you can't do much better.
And oh, the drama! If the stakes are high for one side, then they're high for the other — and man are they high this time. "In Canada, it's hockey," Wanye Gretzky told NBC's Kevin Tibbles earlier this week. "So if we don't win Gold, they talk about it continuously for four years until the next team is selected to go to the next Olympic games." Put more bluntly, said legendary Canadian commentator Don Cherry: "If we don't win that gold, it's gonna be national mourning."
Well, just because it's Canada's national sport doesn't mean it's their medal to take by right. It isn't — and they know it, after narrowly pulling it out against Switzerland, after losing to the U.S. once already, after having it so narrowly almost snatched out from under them by the Slovakians the other night in a game with a breathless finish that scared the wits out of any Canuckian fan watching. They know it, just as they know that the "Own The Podium" program felt wrong (ugh, so wrong), smacking of hubris that is just not very Canadian, the same hubris that always seems to catch Team Canada whenever they show some swagger. Swagger is difference than confidence and preparation and love of the game, and it comes back to respect – respecting the game, that it would inspire your opponents to skate as hard as they can to take it away from you. Today, Team Canada knows that — and man do they respect their challengers. That's respect that has been earned. This game is anyone's to win.
I repeat: This game is anyone's to win. I'll be watching at a pub filled with screaming Canadians in red and white, waving flags and cheering on the home team — but there will be pubs like that across the U.S.A. filled with American fans, cheering on a sport that in many cases they didn't know they cared about…until right now. And in living rooms across both countries and indeed the world, the game will unfold as it will, as two Gold-Medal worthy teams take to the ice in a game that, either way, will emerge with the most important prize of all: Respect.
Let the puck fall where it may.
Have a tip we should know? [email protected]