Goldberg Defends Wikileaks From O'Reilly's Organized Crime Claims: 'It Is A News Organization'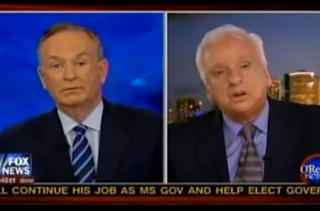 The State Department's favorite whistleblower organization, Wikileaks, has taken yet another holiday to launch a document dump, this time on the secrets of America's military base on Guantanamo Bay. Like every Wikileak, this one has many in the media, including Bill O'Reilly, calling for the government to press charges on Julian Assange and company, but the group appears to have found an unlikely ally: Bernie Goldberg.
Goldberg, who classified Wikileaks as an "anti-American, anti-war organization" in his weekly segment with O'Reilly, nonetheless stood by the group, arguing that, if Wikileaks truly did not encourage or aid the theft of the information they publish, they are by definition a "news organization" whose business is precisely to publish said information. He isn't the first Fox Newser to stand up for the organization, though, unlike Shepard Smith, who went as far as to christen Wikileaks just about the only beacon of truth in government reporting, he didn't seem to convinced of the group's good faith. Nonetheless, he stood up for their right to publish. "You have to distinguish between the person who actually downloaded and effectually stole the documents," he explained, "and Wikileaks." Adding the caveat that, for this to be true, Wikileaks must not have been "in collusion with the person that downloaded the documents," the would be a "news organization," and unless the information "puts lives in jeopardy or jeopardizes an operation," they have a right to publish "and I don't think they should be prosecuted." To illustrate his point, he asked O'Reilly if he would publish President Obama's transcript had someone stolen it from the Columbia University archives.
O'Reilly didn't buy it, beginning his segment reminding viewers that "if I got Wikileaks documents, I wouldn't put them on the air." He didn't disagree with the classification Goldberg gave for Wikileaks as "an anti-American organization that's looking, searching, and encouraging people to come to them with stolen documents," but O'Reilly saw a legal opening here, defining the case as "almost like a RICO thing," referring to the Racketeer Influenced and Corrupt Organizations Act, the federal racketeering law under which most organized crime members are charged. "I think you can get them on that RICO thing," O'Reilly concluded, though Goldberg appeared unconvinced, adding to his examples that of Daniel Ellsberg, the man responsible for leaking the Pentagon Papers to the New York Times.
The segment via Fox News below:

Have a tip we should know? tips@mediaite.com