Goldberg To O'Reilly: 'Not A Tremendous Leap' To Say WH Targeted Rosen Because He Works For Fox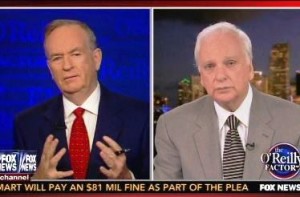 As far as Bernie Goldberg is concerned, the White House has always had it out for Fox News, so it's not that hard to imagine that as the reason why the Department of Justice targeted Fox reporter James Rosen in a scandal that's now put Attorney General Eric Holder on the hot seat. Goldberg first took the media to task for not being on top of the big Washington scandals, and then argued that one underplayed fact of the Rosen case is that the Obama White House has "waged a war on Fox News" for the past four years, and said it's "not a tremendous leap" to imagine that this is why Rosen was targeted as opposed to, say, Brian Williams.
RELATED: Floyd Abrams Smashes DOJ For Investigating Reporters: That's 'Journalism Not Espionage'
O'Reilly credited ABC and CBS' investigative news divisions for "actively looking for stories" in the scandals dominating Washington for the past few weeks. Goldberg was more skeptical about the media's overall coverage, saying for scandals to take off, they have to become part of the political culture and not just "a story for news junkies."
On the subject of whether Holder is headed for trouble, Goldberg said that "it's fair to say that he lied to Congress," but lamented how the media hasn't done enough coverage on the DOJ scandal to reach the Dancing with the Stars audience. O'Reilly pointed out that although a few late night comics have had their fun with Obama, most people "don't care" about Holder or Rosen, let alone know who they are.
Goldberg then brought up a point about the Rosen scandal he thought isn't getting enough media attention: the White House's hatred of Fox News.
"This administration, from the president on down to his top political cronies have waged a war for years–for years they've waged a war on Fox News. They have tried to tell the American people this is not a legitimate news organization, that it's pretty much a wholly-owned subsidiary of the national Republican party. Now, I don't have any smoking gun memos, but I don't think it's some tremendous leap to say that they went after James Rosen because he works at Fox in a way that they would have never gone after him if his name were Brian Williams."
Watch the video below, courtesy of Fox News:
—–
Follow Josh Feldman on Twitter: @feldmaniac
Have a tip we should know? tips@mediaite.com
Josh Feldman - Senior Editor