Goldie Taylor Inspired To Share Her Own Story Of Sexual Abuse By Anger Over Penn St. Scandal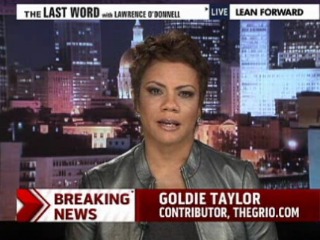 TheGrio.com's Goldie Taylor appeared on The Last Word last night, sharing with host Lawrence O'Donnell her own personal experience with sexual abuse in the wake of the Penn State rape scandal.
O'Donnell pointed out that, earlier, Taylor had tweeted that she had been angered over the scandal's cover-up by those at PSU, but later felt "ashamed that I never had the courage to tell my own story."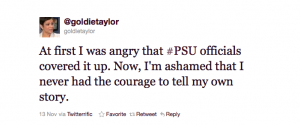 RELATED: Jerry Sandusky Atty. Didn't Say Alleged Rape Victim 'Denies Abuse' As Reuters Reports
If she can be angry at adults for not speaking out on behalf of young victims in this case, Taylor asked, how can she not also be upset for not having advocated for herself?
In my case, it was a high school football coach. I was a varsity cheerleader in Missouri. And there were other women like me, and I knew it at the time. And, in my own fear of being shamed and blamed, even as a growing person, as an adult, a mother of children now, I felt like I had no safe harbor to tell it. But if I were going to challenge these adults at Penn State to tell it, if I were going to challenge other people to speak up and speak out, I said yesterday afternoon, then why not me?

And so I started to Tweet about it. And as people began to respond, I said, "Now's the time." And I would not wait another day.
There is never, ever a "silver lining" when it comes to rape, sexual abuse, or the exploitation of young children, but one does hope that those who have lived in fear, as Taylor admitted she had, can note that there is an empathetic community willing to aid them in seeking help, pursuing justice for crimes committed, and moving forward.
Here is Taylor's experience, in her own words, via MSNBC:
Have a tip we should know? tips@mediaite.com