Goldie Taylor 'Sick And Damn Tired' Of Republicans Failing To Extend Payroll Tax Cut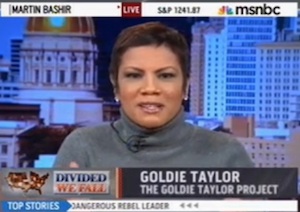 TheGrio writer and cable news contributor Goldie Taylor got into a heated exchange with conservative columnist S.E. Cupp, mixing it up over the payroll tax cut extension on Martin Bashir's show Tuesday. "Is poppycock one word or two?" Taylor snarked.
RELATED: Congress Votes No On Payroll Tax Cuts…But Yes On Winston Churchill Bust!
"At the end of the day, it was Democrats who wanted a year long extension in the tax cut holiday, but they had to break this deal. The deal was for two months and then Republicans came back and said 'oh no, we wanted it for a year.' What they are trying to do is kill the extension for a year on working class Americans and blame it on the president. That's what this game is about and they ought to cut it out right now!" Taylor fumed. "What $1,000 dollars would do for working class Americans is pay for rent, pay for groceries, keep the damn lights on! And I'm sick and damn tired of the talking points that get pushed out on this thing."
"Sorry for the talking points but it's not that complicated," Cupp countered.
"Lies generally aren't," Taylor hit back.
"To compromise does not mean to just accept what's on the table," Cupp responded. "To compromise means both sides get something they want out of this. Republicans aren't stupid!"
"They wanted it paid for with 3.2% surtax on billionaires and millionaires, and they refused on that basis," Taylor exclaimed. "They refused to tax the 1% in favor of raising taxes on working class Americans."
Taylor's refreshingly pugnacious spirit ought to inspire lawmakers to stop sitting on their hands and come to an agreement.
Watch Taylor and Cupp duke it out over the payroll tax cut holiday below via MSNBC:

Have a tip we should know? tips@mediaite.com