Goldie Taylor To Martin Bashir: 'I Don't Want To Be Anywhere Near Mitt Romney's Fruited Plain'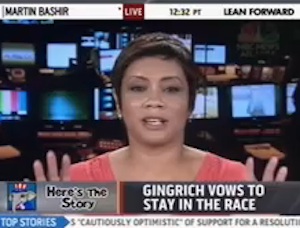 Appearing on MSNBC's Martin Bashir Friday afternoon, Goldie Taylor and S.E. Cupp shared their thoughts on what was next in the GOP nomination battle and the negative campaigning to come. Mitt Romney's gaffe-laden week drew host Martin Bashir's attention. "I guess this week is going to be defined for Mitt by his appalling singing voice and his views on the poor," Bashir observed. "The way Mitt Romney sounds, I don't want to be anywhere near his fruited plain!" Taylor exclaimed.
"It's interesting that Mitt makes these kind of mistakes where Newt is deliberative," Bashir said. "…Calling Mitt Romney the little food stamps president and the president the big food stamps president?! He's going to get trounced in Nevada probably by over 20 points! What's the point of this? Six months more of this?!"
"What's the point of anything that Newt Gingrich does?" Taylor boomed. "I imagine that in the constellation that is Newt Gingrich's world, he's at the very center!"
During her later analysis, Taylor thought while things were still going well for Romney in terms of wrapping up the nomination, he couldn't afford to keep making unforced errors during the campaign.
"I think this week has been a really good one for (Romney) in terms of winning Florida," Taylor surmised. "Some of the missteps he's made, he's not going to be able to continue to make them as we head through February and into Super Tuesday, Newt is going to stay in this race. He's going to fight hard. He's going to catch Mitt at every misspeak that he ever puts out there. He's got to tighten up his ship and head toward securing the nomination come Super Tuesday…he's got to stop the misspeaking. Speaking about not caring about the very poor even though out of context, that sounds like a very, very damning statement for him."
RELATED: Goldie Taylor On Gingrich's Run: 'The Question Is, Will Newt Implode Before Or After The Nomination?
Cupp agreed with Taylor's analysis. "I don't know why he's allowing one group of people to bully him on this issue," Cupp noted. "He's got to get it together…The problem with this particularly gaffe is it fails on two counts, style and substance. We talked about this yesterday. There's got to be a more artful way that he's standing up for the middle class. That he isn't just some elitist. There's also substance-wise, (there's) got to be a better way to defend conservative values."
Watch below via MSNBC:

Have a tip we should know? tips@mediaite.com