'Gonna Beat the Living F*ck Outta Him': Rapper DMX Set to Fight George Zimmerman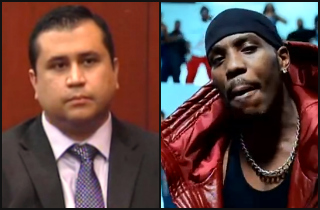 George Zimmerman is set to step into the ring and fight with rapper DMX.
No, this is not a joke. The man acquitted in the 2012 killing of Trayvon Martin recently signed a contract with celebrity boxing "opportunist" Damon Feldman to participate in a March 1 15 match and, after some deliberation, the impresario selected the Grammy-nominated rapper as his Zimmerman's opponent.

Previously, rapper The Game was a frontrunner, who told TMZ that "I would not be boxing for me… I'd be boxing for the legacy of Trayvon Martin and his family."
Ultimately, Feldman settled on Dark Man X, 43, who every black person who has been done wrong in the system."
No, DMX did not say things like "Zimmerman's made me lose my mind, up in here, up in here," but he did have these strong comments, via TMZ:
[H]e wants to do it for "every black person who has been done wrong in the system." […]

"I am going to beat the living f**k out him … I am breaking every rule in boxing to make sure I f**k him right up."

DMX says, "Once I am done with him, I am going to whip my d**k out and piss on him … right in his muthaf**kin face."

He adds, "Zimmerman is a piece of s**t and that's what he needs to drink."
So there you have it. More details will come in a press conference today. Yay.
UPDATE: The match will take place on March 15 and will be available for pay-per-view online.
[h/t CNN]
— —
>> Follow Andrew Kirell (@AndrewKirell) on Twitter
Have a tip we should know? tips@mediaite.com