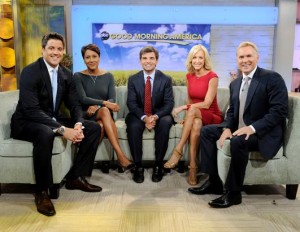 ABC's Good Morning America edged out NBC's The Today Show for the first time since December 1995, the New York Times' Brian Stelter reports.
According to preliminary Nielsen ratings for the week of April 9, ABC averaged 5,147,000 viewers — 13,000 more than NBC's 5,134,000. That said, Today continues to lead GMA in viewers within the key age 25-54 demo.
RELATED: Katie Couric And Good Morning America Tease Today Show
As Stelter notes, the victory has been one a long time in the making:
"GMA" has been gaining ground on "Today" for nearly a year, for reasons that are debated by the networks. (Format changes? New co-hosts? A boost from ABC's prime-time schedule?) The newly reformatted morning show on CBS, "CBS This Morning," is a distant third, with about half as many viewers as "Today."
The victory should be a powerful morale boost for the GMA team, as the show has been nipping at Today's heels with former Today co-host Katie Couric's recent guest appearance alongside anchor George Stephanopoulos.
RELATED: Palin On Co-Hosting Today: 'It Wasn't Just A Coincidence' Katie Couric Co-Hosted GMA Same Day
Today had attempted to match Couric's much-publicized GMA hosting gig earlier in April by teasing the return of a "Today legend" — former morning show anchor Meredith Vieira — and former Alaska governor Sarah Palin, who acted as Today's own special guest co-host up against Couric.
"It wasn't just a coincidence," Palin later told Fox News' Sean Hannity. "I'm not sure how it all came together, but I am one for good competition."
(h/t NYT)
Have a tip we should know? tips@mediaite.com