Good News, Television And Paper Enthusiasts! You Can Now Buy Dunder Mifflin Paper In Real Life!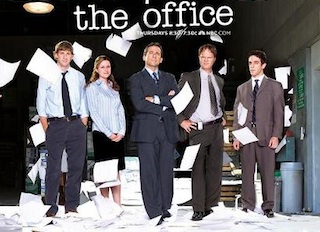 Admit it, you've been there. We all have. Every one of us has spent a night by the TV, watching The Office's Jim and Pam enjoy their fairy tale romance or seeing the coworkers unite as the family they really are. And deep down, we've all gotten a little jealous. How could we see all the camaraderie and warmth on display and not think to ourselves, on a dark night of the soul, "Gosh, I wish I had some of that paper they're selling!" Well, good news, your fantasies have been answered! Thanks to the Staples-owned website Quill.com, you can buy Dunder Mifflin-brand paper here in the real world!
The Wall Street Journal is reporting the interesting new production:
"Staples' Quill.com, based in Lincolnshire, has struck a licensing deal with NBC's parent company to launch a Dunder Mifflin brand. Priced largely above private-label copy paper, the Dunder Mifflin packages will be emblazoned with slogans such as 'Our motto is, 'Quabity First" and 'Get Your Scrant on,' well-known phrases from the comedy series.

The marketing deal is a bid to combat what Quill's chief marketing officer, Sergio Pereira, calls a 'race to the bottom in the paper business.'"
Yes, if you want to pay extra to get the little thrill of imagining a fictional character getting a compliment from his fictional boss about sales numbers, this is definitely the paper to stock your printer with. Honestly, the whole thing seems kind of silly.*
*Says the guy who would pay good money to get more cans of Brawndo. It's the thirst mutilator!
You can read more about the paper and this new form of "reverse product placement" at the Wall Street Journal here. Just know that, if Staples is doing this, we can only presume that a hipper, more elitist paper company is probably producing Wernham Hogg paper as we speak. That paper is better, came first, and tells a complete story.
Have a tip we should know? tips@mediaite.com