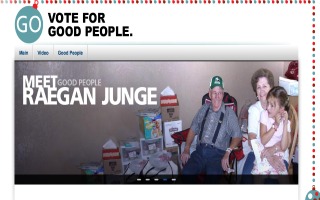 We've had a lot of negative news on the site lately, no? Electric border fences that may or may not include special robot arms to give undocumented immigrants purple nurples. Barack Obama basically being a jealous hater. Janet from Rocky Horror calling the Pope a very mean name. It's all very disconcerting! Let's focus on something nice for a change! So, with that in mind, here's a nice little palate cleanser, courtesy of the Weather Channel. And Christmas.
Starting on Monday, December 19th, the Weather Channel will feature "Epic Christmas," a holiday special that will highlight the achievements of five people who have" helped friends, family, neighbors or strangers during this year's extraordinary weather," and thank them for their efforts with "a Christmas to remember."
RELATED: President Obama In Joplin: 'Cameras May Leave' But We're With You Until Joplin Is 'Back On Its Feet'
After putting out a call for Good Samaritans, the Weather Channel narrowed down their list to five winners from across the U.S.:
David Miller of Pratt City, AL, a single father and cancer survivor who collected toiletries, food, clothing and other items for community members after an EF-5 tornado struck the Birmingham, AL, area and left many homeless.

Gabe Allen of Joplin, MO, a police officer who spent more than 18 hours digging through rubble, rescuing anyone he could find, offering comfort to those in need after an EF-5 tornado hit Joplin, MO.

Patti Miller of Sierra Vista, AZ, a real estate agent who raised nearly $100,000 to help firefighters and residents after wildfires burned through Arizona.

Raegan Junge of Keystone, IA, a 6-year-old who raised more than $1,500 selling homemade bracelets to deliver to an elderly couple who lost everything after an EF-5 tornado destroyed Joplin, MO.

Suzy Godding of Mahwah, NJ, a stay-at-home mom who in response to Hurricane Irene, founded Mahwah Elves, a volunteer organization aimed at assisting those affected by natural disaster, and coordinated clean-up efforts to help the citizens of Mahwah.
It's a nice way of not only drawing attention to good people, but of making sure we don't forget the lessons learned (and the work that still needs to be done) thanks to these natural disasters. And get ready to have your hearts get EXTRA WARM, you guys: The show's host, Steve Watson, is also giving back. His hometown of Cleveland, Tennessee was among the many U.S. cities devastated by a tornado this year. So Watson took it upon himself to raise over $400,000 to help rebuild it. You guys!
If you want, you too can participate in this "Epic Christmas" by voting for your favorite finalist via www.weather.com/epic today through December 16. The finalist with the most votes will be named the "Viewer Favorite," and The Weather Channel will donate $1 per vote (up to $5,000) to that wining finalist's charity of choice.
Learn more, courtesy of the Weather Channel:
Have a tip we should know? tips@mediaite.com