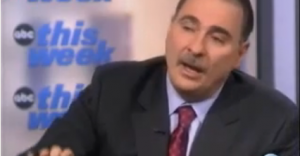 White House senior adviser David Axelrod joined George Stephanopoulos on This Week today to follow-up on WH communications director Anita Dunn's remarks last weekend on Reliable Sources that Fox News isn't really a news station.
After playing a clip from Rupert Murdoch in which he said that attention from the White House has been great for his Fox News ratings, Stephanopoulos really cut to the bone, asking Axelrod "Are You Worried That Your Strategy is Fortifying Your Enemy?" The enemy, of course, is Fox News.
Axelrod responded with the same White House talking points we heard from Dunn last weekend, and encouraged Stephanopoulos to not treat them like a legitimate news organization.
This knife, however, cuts both ways. Former President H. W. Bush's remarks at the end of the week that Rachel Maddow and Keith Olbermann are "sick puppies" will only make liberals love them all the more. What's the take-away here? Cablers should continue to arouse the ire of politicians with slanted coverage if they want good ratings.
Update: Mediaite has received the following statement — a response to David Axelrod and Rahm Emanuel's television appearances this morning — from Michael Clemente SVP of News at Fox News:
Surprisingly, the White House continues to declare war on a news organization instead of focusing on the critical issues that Americans are concerned about like jobs, health care and two wars. The door remains open and we welcome a discussion about the facts behind the issues.
David Axelrod this morning with George Stephanopoulos:


Have a tip we should know? tips@mediaite.com