Goofy Conservative Pundits Revoke Coke's Status as America's Brand
Kirell: Goofy Conservative Pundits Revoke Coke's Status as America's Brand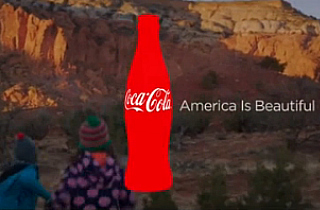 Just when you thought we'd get through one Super Bowl without some sort of vaguely political controversy, a bunch of irrational xenophobes took issue with an innocuous Coca-Cola ad depicting a bunch of foreign people singing America's praises in — gasp! — foreign languages.

Last night, Tommy Christopher chronicled the various Twitter trolls who started #boycottcoke and #fuckcoke hashtags in protest of the "America Is Beautiful" ad. Their basic message: Welcome to America, now speak English!
Of course, all these protests ignore that the ad was clearly meant to evoke America's unique "melting pot" history, and its standing in the world as a place to which millions still aspire to emigrate. Singing a ubiquitous and patriotic tune like "America the Beautiful" in foreign languages demonstrated that even though we all come from various origins, we all speak the tune of loving America, etc., etc.
Aside from the bowels of the Twittersphere getting into a tizzy over the ad, there were also a handful of conservative commentators who took to sharing their goofy interpretations.
Let's start with a former elected official: ex-Rep. Allen West (R-FL).
Immediately following the commercial's airing, he took to his website to essentially revoke Coca-Cola's unspoken status as America's brand. "Coca Cola commercial came on and it started rather patriotically with the words of 'America the Beautiful,'" West wrote. "Then the words went from English to languages I didn't recognize."
Quelle horreur! Words he didn't recognize! Get that tripe off his TV set; this is America. We speak only English on the television tubes. How dare Coke sully one of our most patriotic songs with languages Allen West does not understand!
He went on to predictably lament "multiculturalism" and wring his hands over the "disturbing" ad: "If we cannot be proud enough as a country to sing 'American the Beautiful' in English in a commercial during the Super Bowl, by a company as American as they come," he concluded, "doggone we are on the road to perdition."
Yep. An ad celebrating this country is sending us down the road to perdition (Sadly, he's not referring to this Tom Hanks classic). Get ready for centuries of hellfire and damnation, America!
Another goofy little anti-Coke tirade came courtesy of Boston conservative radio host Jeff Kuhner, who took to berating a caller in Croatian to make a "point" that you wouldn't like it if you were a banker or an emergency worker and the person you tried to help refused to speak English.
Right-wing news aggregator The Right Scoop got in on the action as well, subtly linking the ad to shamnesty:
[I]n a day and age where no political party is willing to fix our porous border, I can understand the outrage. America has a culture of its own, primarily denoted by our official language, English, and there are many in our society who would like to destroy that culture and are working hard at doing exactly that.

Whether or not this was Coke's idea as the basis for this commercial, I don't know.
Note the fun little use of "I don't know" at the end, after seemingly connecting the soda giant to those who seek to "destroy" American culture. I don't know, man, just asking questions. Maybe Coca-Cola wants to destroy all we hold dear and turn us into the Mexican States of Jihadistan. Who knows, man!
(Side note: It's funny to say our culture is "primarily denoted by our official language, English," and not, you know, the thousands of other cultural aspects that make America uniquely American.)
And then comes the mother of all anti-Coke outbursts from someone paid by a major media company to give his horrible opinions on a daily basis. You knew he was going to make an appearance here, so without further ado, ladies and gentlemen, I present to you, Todd Starnes:
Couldn't make out that song they were singing. I only speak English.

— toddstarnes (@toddstarnes) February 3, 2014
So was Coca-Cola saying America is beautiful because new immigrants don't learn to speak English?

— toddstarnes (@toddstarnes) February 3, 2014
Coca Cola is the official soft drink of illegals crossing the border. #americaisbeautiful

— toddstarnes (@toddstarnes) February 3, 2014
We should all be grateful Starnes didn't notice the gay male couple towards the end of the same ad. That would've been a whole other hilariously awful tirade from the man who brought you this and this.
Relive the Coke ad below and decide for yourself whether the soda company wants to destroy America:
— —
>> Follow Andrew Kirell (@AndrewKirell) on Twitter
Have a tip we should know? tips@mediaite.com