GOP and Dem Reps Clash over Whether 'Coincidence' Multiple Agencies Targeted a Republican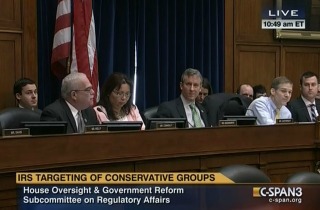 A congressional hearing into the Internal Revenue Service's targeting of conservative groups became heated on Thursday when a Republican and a Democratic House member blew up over whether one conservative being targeted by the Occupational Safety and Health Administration, the Bureau of Alcohol, Tobacco, Firearms, and Explosives, The Federal Bureau of Investigation, and the IRS after she became politically active was just a "coincidence."

The founder of one group which claims its tax-exempt status was delayed as a result of its conservative viewpoints, Catherine Engelbrecht, was grilled by Rep. Gerald Connolly (D-VA) during her testimony over whether her business should have been regularly inspected by OSHA after she registered her group, King Street Patriots.
RELATED: Testifying Attorney Blasts Obama's Claim There Was No Corruption at IRS
Connelly insisted that OSHA is legally mandated to make inspections without announcement. "It's a huge leap, given that, to conclude someone is out to get you," he added.
Rep. Jim Jordan (R-OH) probed Engelbrecht to reveal that she was targeted after registering her conservative group by the ATF, the FBI, OSHA, and the IRS where she had never had any contact with these agencies prior to becoming politically active. "And Mr. Connelly wants ups all to believe that's a coincidence?" Jordan asked.
The two congressional representatives exploded after Jordan's accusation. "So, where is the proof though?" Connelly asked.
"I didn't say proof. I said you want us all to believe it's a coincidence," Jordan shot back.
"And you want us all to believe by innuendo there must be something wrong," Connelly countered.
"You can believe it's all a coincidence," Jordan replied. "I refuse to do that."
Connelly closed by insisting that "paranoia" cannot substitute for evidence. He added that Jordan "should be on the panel, given your views."
Watch the exchange below via C-SPAN 3:
[Photo via screen grab ]
— —
> >Follow Noah Rothman (@NoahCRothman) on Twitter
Have a tip we should know? tips@mediaite.com