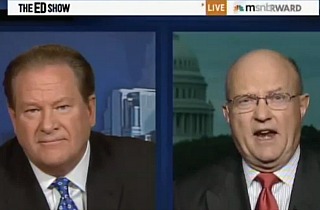 In a fiery appearance on MSNBC's The Ed Show, Former Bush administration official and retired U.S. Army Col. Lawrence Wilkerson said that he is ashamed of his party, the GOP, for continuing to investigate the government's response to the 2012 attack in Benghazi. Wilkerson told host Ed Schultz that the Republican Party should instead be investigating "war crimes" orchestrated by former Vice President Dick Cheney.

Wilkerson asserted that embassy security went underfunded, and that security at diplomatic facilities would be better if the Congress followed the recommendations of committee convened to investigate attacks on those facilities.
"It's very difficult to handle a crisis, and you take the talking points points from whomever you can get them who's on the scene," Wilkerson asserted. "In this case, as I understand it, the CIA provided most of the talking points."
"You can't ever get it right right up front," he continued. "so, I don't find that to be a great problem."
RELATED: Attkisson: There's a 'Well-Orchestrated Strategy to Controversialize' Benghazi
After asserting that he remains a member of the Republican Party, Wilkerson said that he does find it concerning that the GOP focuses on Benghazi over more pressing issues.
"I find it an enormous problem that they go after something like this, Benghazi – tragedy that it was – and they don't go after something that is a colossal tragedy like the war crimes of Richard Bruce Cheney," he insisted.
"The fact that I was a member of that administration will haunt me to the grave," he concluded. Wilkerson served as former Secretary of State Colin Powell's chief of staff in the run-up to the Invasion of Iraq in 2003.
Watch the clip below via MSNBC:
[Image via screengrab]
— —
>> Follow Noah Rothman (@NoahCRothman) on Twitter
Have a tip we should know? tips@mediaite.com