GOP Candidate And AZ Sheriff Admits He's Gay After Accusations Surface That He Dated An Illegal Immigrant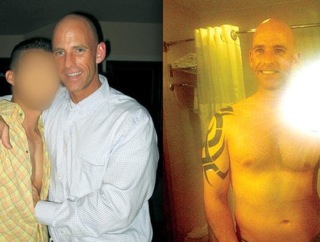 Arizona is currently in the midst of a very fiery sex scandal as Pinal County Sheriff Paul Babeu, a well-known anti-illegal immigrant proponent and Republican Congressional candidate, has been exposed as gay by a source telling the Phoenix New Times that he was Babeu's ex-lover, and that Babeu threatened him with deportation several times when he refused to promise to keep the affair under wraps. Babeu responded by admitting in a press conference that he was gay, stepping down the Romney campaign, and denying the rumors that he threatened anyone with deportation.
The Phoenix New Times broke the story with an interview with the ex-lover, who they identify only as José, a 34-year-old from central Mexico. José says that Babeu's lawyer threatened to deport him if he spoke of the affair after they broke up. According to José, this was how the relationship ended:
Jose says Babeu told him that he loved him and was with him exclusively. But Jose suspected Babeu was lying. The relationship soured, and Jose believes that Babeu sent DeRose after him. He says DeRose demanded the passwords to Babeu's websites and social-media accounts. Jose says he complied but that Babeu and his attorney also wanted Jose to sign a document that would bind him legally to keep silent about the relationship.
As the relationship soured, Babeu allegedly sent his lawyer's after Jose. "The latest of the alleged threats were made through Babeu's personal attorney, who's also running the sheriff's campaign for Congress in District 4," according to the New Times. José provided text messages and the above photos, as well as an Adam4Adam (think OKCupid's less self-important gay cousin) profile. Gay culture and politics blog Towleroad reports that the couple met through a Gay.com (Match.com's less self-important gay cousin) profile. José began, he says, working with Babeu by keeping his social media and web work up to date, but they eventually began an affair. The Tuscon Citizen, another local publication, is deeming this a "sex slave operation," but that doesn't seem to be based on any information not in the Phoenix New Times report.
Babeu was running for Congress and chairing the Arizona wing of the Mitt Romney campaign when the story broke. He is vocally anti-illegal immigration and appeared in Sen. John McCain's famous "Complete the Danged Fence" ad:

Today he held a press conference where he stepped down from Romney campaign duties and confirmed that he was gay, but denied the rumors about José being illegal– or at least that he had no knowledge of his legal status– or him threatening to deport anyone, stating: "it's blatantly, completely false." The New Times does note that he "denied the allegations made by the ex-boyfriend, and instead painted him as a jilted lover and former campaign volunteer who hacked into his website and other accounts."
Below the local news report from Fox 10 Phoenix about the scandal below:
Watch Sheriff Paul Babeu Announce His Run For Congress On 01/04/12 below:
Have a tip we should know? tips@mediaite.com