GOP Candidate Harley Brown Rails Against 'Commies' in Bizarre Showdown with Chris Matthews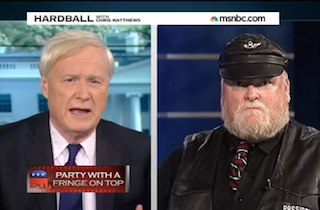 An obscure Republican gubernatorial candidiate in Idaho named Harley Brown made a name for himself this week when he publicly defended the controversial "Harleyisms" about Jews, gays, blacks and various other groups that live on a special section of his website. Brown, who says his main goal is the "campaign against political correctness" met his match Friday evening in MSNBC's Chris Matthews.
The host played a montage of Brown's "most notable one-liners" from Wednesday's debate before welcoming him to his national television debut. Brown began by listing off all the reasons he loves the United States of America before saying the rising national debt has made him question the direction in which this country is going.
So, Matthews asked, if he were elected president tomorrow, what would he get rid of to save money? "The Commies," Brown answered, before turning more serious saying he would eliminate most "social programs." He also suggested that 90% of what the federal government does is "as unconstitutional as the Communist Manifesto."
Matthews did his best to take the candidate seriously, challenging his notion that the existence of an Air Force was specifically authorized in the Constitution and asking him if there have been any politicians over the last several decades that he thinks did things right. The most modern figure he could come up with was Teddy Roosevelt.
Watch the full segment below, via MSNBC:
And watch the original clip from this week's debate below, via Aaron Kunz:
[Photo via screengrab]
— —
>> Follow Matt Wilstein (@TheMattWilstein) on Twitter
Have a tip we should know? tips@mediaite.com