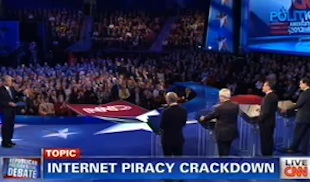 During CNN's South Carolina debate, moderator John King asked the GOP candidates to weigh in on the controversial Stop Online Piracy Act (SOPA) Bill being discussed in Congress. All of them expressed disapproval.
"You're asking a conservative about the economic interests of Hollywood?" Gingrich replied. "I'm weighing it. I'm not rushing in. I'm trying to think through all of the many fond left-wing people who are so eager to protect. On the other hand, you have virtually everybody who's technologically advanced including Google and YouTube and Facebook and all the folks who say this is going to totally mess up the Internet and the bill in its current form is written badly and leads to a range of censorship that is totally unacceptable. Well, I favor freedom! And I think that if you — if we have a patent office, we have copyrighted law. If a company finds it has genuinely been infringed upon, it has the right to sue — but the idea we're going to preemptively have the government start censoring the Internet on behalf of giant corporations, economic interests, strikes me as exactly the wrong thing to do."
RELATED: Rick Santorum Answers Question On SOPA: 'There Are Limits To Freedom On The Internet'
Mitt Romney agreed with the former Speaker of the House's position. "The truth of the matter is that the law as written is far too intrusive, far too expensive, far too threatening to freedom of speech and movement of information across the Internet," Romney observed. "It would have a potentially depressing impact on one of the fastest growing industries in America, which is the Internet. At the same time, we care very deeply about intellectual content going across the Internet. If we can find a way to very narrowly go after those people who are pirating, we'll do that. A very broad law which gives the government the power to start stepping into the Internet and saying who can pass what to whom, I think that's a mistake. I'd say no, I'm standing for freedom."
Ron Paul pointed out that he was the first Republican to sign on with a host of Democrats to oppose SOPA. "This bill is not going to pass," Paul said. "But watch out for the next one! I am pleased that the attitude is sort of mellowed up here, because the Republicans unfortunately have been on the wrong side of this issue. This is a good example on why it's good to have somebody that can look at civil liberties and work with coalitions and bring people together. Freedom and the constitution bring factions together. I think this is a good example."
Rick Santorum also said he didn't support the bill but made it clear he was a staunch defender of intellectual property. "The Internet is not a free zone where anybody can do anything they want," Santorum opined.
Watch the Republican contenders roundly condemn SOPA below via CNN:

Have a tip we should know? tips@mediaite.com