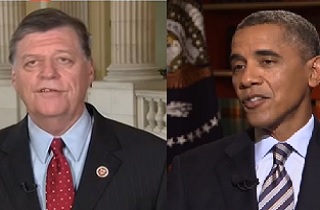 The long-roiling controversy over the name of the Washington NFL franchise's name has been coming to a head recently, and got a boost over the weekend when President Obama weighed in. On Monday's Now with Alex Wagner, host Alex Wagner asked Rep. Tom Cole (R-OK) if he agreed with the President that the Washington Redskins ought to change their name, and Cole said he did, and that he, along with "millions of others," finds the name "offensive."
The issue of the Washington NFL team's name has long been a subject of protest by Native American groups, but has heated up lately, with several sportscasters and writers refusing to use the name "Redskins" in their coverage, and many conservatives registering reflexive objection to anything that smacks of "political correctness."
In an interview with The Associated Press on Friday, President Obama weighed in on the controversy over the team name:
"I don't know whether our attachment to a particular name should override the real legitimate concerns that people have about these things," the president said when asked for his take.

"If I were the owner of the team and I knew that there was a name of my team — even if it had a storied history — that was offending a sizable group of people, I'd think about changing it," he added.
Washington Redskins attorney Lanny Davis responded to the President's remarks with defiance, and like many supporters of the team name, cited polls in support of his position. An Associated Press poll from April found 79% in favor of keeping the name, and Davis also cited a 2004 poll that found 9 out of 10 self-identified Native Americans said the team's name didn't bother them. According to Cherokee citizen and Indiana University Professor Steve Russell, the latter poll "sampled "self-identified Native Americans" (768 of them), a term which includes plenty of people who have nothing to do with Indians. Annenberg systematically oversampled in states with no federally recognized Indian tribes and undersampled states with large reservations or urban Indian populations.
Another recent poll, though, might tell you all you need to know about this controversy. In June, The Washington Post polled DC-area sports fans, and found that two-thirds said the team's name should remain the same. Of those who supported keeping the name "Redskins," 56% said they thought the name was "inappropriate," while only 28% said the term was acceptable.
On Monday's Now, Republican House member Tom Cole, a member of the Chickasaw Nation, told Alex Wagner that he agrees with the President. "I've never equivocated about that," he said. "I have a lot of respect for them as a football program, great tradition, won Super Bowls. I don't have anything to say about the team."
"The name is inappropriate," he continued. "It's offensive to a lot of people. Certainly to me, but a lot of others, millions of others. I wish they would look at changing it. I don't think it's asking too much. In a town where people were sensitive enough to change the name of the Washington Bullets to the Washington Wizards because they thought it promoted violence, I don't see how in the world you can have the moniker that the Washington franchise uses today. In the end, I think it will change."
Here's the clip, from MSNBC's Now:
Have a tip we should know? tips@mediaite.com