GOP Congressman Appears On MSNBC To Bash John Boehner For Pushing A 'Tax Hike'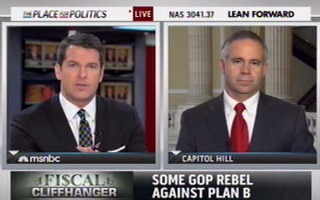 Rep. Tim Huelskamp (R-KS), a committed "no" vote on House Speaker John Boehner's (R-OH) "Plan B" bill to avoid going over the fiscal cliff, appeared on MSNBC with anchor Thomas Roberts on Thursday where he admonished the Speaker for trying to pass a bill which would raise taxes.

Roberts said that even Americans for Tax Reform president Grover Norquist conceded that his group will not oppose passage of "Plan B," and asked why Huelskamp still opposes the bill.
"The real issue here is strategy," said Huelskamp. "What disturbs conservatives the most is very little, if any, spending cuts have been discussed."
"The trillion dollar tax hike – even in Washington-speak – it's still a tax hike," Huelskamp said. "It's going to raise tax rates to exactly what Nancy Pelosi suggested in May."
"So you are against any tax raise at all to create new revenue," Roberts asked.
"Absolutely," Huelskamp replied. "What folks should be most concerned about is economists from both sides of the aisle recognize raising taxes costs jobs. Why would we want to raise taxes on 41 percent of small business income – which is what the $1 million threshold does – which will cost literally tens of thousands, perhaps hundreds of thousands of jobs?"
Roberts asked if the Congressman would yield any room to Boehner to maneuver in negotiations with Democrats to resolve the fiscal cliff. Huelskamp did not directly answer the question, but reiterated his opposition to the current plan and said that Congress should be considering tax reform to broaden the tax base.
Watch the clip below via MSNBC:
> >Follow Noah Rothman (@Noah_C_Rothman) on Twitter
Have a tip we should know? tips@mediaite.com