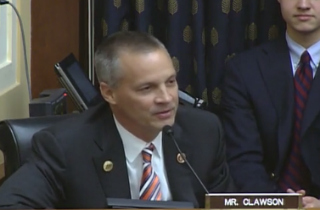 Note to Rep. Curt Clawson (R-FL): When in a House hearing, you may want to know to whom you are speaking before saying anything to them. Otherwise it could get awkward or embarrassing.
As Foreign Policy magazine pointed out on Friday, the freshman Republican lawmaker mistook State Department official Nisha Biswal and Commerce Department official Arun Kumar to be Indian government officials during a House Foreign Affairs committee yesterday.
"I'm familiar with your country," he told them, despite the chairman introducing them both as senior American officials. "I love your country. And I understand the complications of so many languages and so many cultures and so many histories all rolled up in one."
He added, as the two officials sat staring at him: "Anything I can do to make the relationship with India better, I'm willing and enthusiastic about doing so."
When he asked the pair for cooperation from "your government," an awkward pause ensued before Biswal took the mic and told the Republican: "I think your question is to the Indian government. And we certainly share your sentiments and we certainly will advocate that on behalf of the U.S. government."
Foreign Policy reports more context on the mishap:
It's extremely uncommon for foreign officials to testify before Congress under oath. Even so, it's unclear if at any point Clawson realized his mistake, despite the existence of a witness list distributed to the various members detailing Biswal and Kumar's positions. Clawson's office did not respond to multiple requests for comment.

During the hearing, he repeatedly touted his deep knowledge of the Indian subcontinent and his favorite Bollywood movies. None of his fellow colleagues publicly called him out on the oversight — perhaps going easy on him because he's the new guy.
Watch the incident below, via Foreign Policy:
[h/t Talking Points Memo]
[Image via screengrab]
Have a tip we should know? tips@mediaite.com