GOP Congressman Explains House Plan To Cut Off Lawmakers' Paychecks If Congress Can't Pass A Budget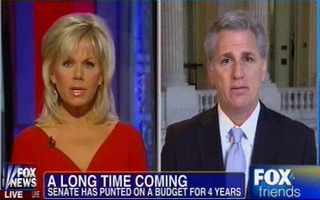 The last time the Democrat-controlled Senate passed a federal budget was April 29, 2009. In spite of years of Republican efforts to shame Congress into passing a budget in the last nearly four years, all efforts have failed. Now, Republicans have a new plan: pass a budget or go without paychecks. On Wednesday, House Majority Whip Rep. Kevin McCarthy (R-CA) appeared on Fox & Friends to explain the GOP's plan to force the Senate to either pass a budget or forego their compensation.

RELATED: Bret Baier Grills Jay Carney: 'Senate Democrats Have Not Passed Budget Resolution In 1,070 Days. Why?'
McCarthy said that the House GOP's plan to get around the 27th Amendment to the Constitution, which prohibits lawmakers from adjusting a sitting legislators' pay scale during an active session of Congress, lawmakers' paychecks will go into an escrow account.
He said that Congressional Republicans' priority is no to ensure that President Barack Obama and the Democrats agree to passing a budget before the next debt ceiling limit extension expires in May.
"This bill will move – April 15 is the deadline when both Houses are supposed to pass a budget," McCarthy said. "We give them a little more time, trying to be fair in the process, into May."
"Pass a budget," McCarthy added. "If you can't do your job, which you haven't been able to do in almost four years, you shouldn't be paid."
Gretchen Carlson asked McCarthy how he would respond to critics on the right who say that any extension of the debt ceiling limit without spending cuts is a capitulation to Democrats.
McCarthy said that his conference's goals are to avoid the automatic 'sequestration' cuts to the Pentagon which take effect in March. He went on to say that House Republicans – since they retook the House in 2011 – have cut discretionary spending deeper and more often than even former House Speaker Newt Gingrich managed.
Watch the clip below via Fox News Channel:
> >Follow Noah Rothman (@NoahCRothman) on Twitter
Have a tip we should know? tips@mediaite.com