GOP Congressman Who Organized Heckled Conference: Rival's Camp May Have Been 'Attempting To Provoke An Incident'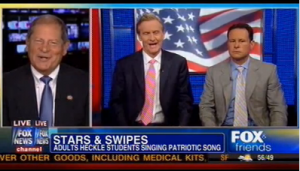 On the heels of a demonstration that descended into hecklers telling a group of school children singing '"God Bless The U.S.A." that they'd "burn in hell," NY congressman Bob Turner visited Fox & Friends to tell what happened.
For context, here's a snippet from our earlier report on the incident:
Remember the story about a New York kindergarten principal who swapped out the song "God Bless the USA" in favor of Justin Bieber's "Baby" for children to sing at their "moving-up" ceremony? It caused plenty of outrage and led to a number of Republican politicians condemning the school's decision. On Monday afternoon, one of those Republicans, Congressman and U.S. Senate candidate Bob Turner (R-NY), got in on the outrage action by holding a press conference near the school to sing "God Bless the USA" with a small choir of children waving American flags.
RELATED: GOP Congressman's Patriotic Anti-Bieber Rally Descends Into Chaos
"Well, as soon as the children started singing," Turner explained, "there was more than one heckler started shouting them down. I think they were attempting to provoke an incident because it was being tracked by a campaign aide from the Gillibrand camp. "
"Congressman, are you suggesting that, perhaps, the Gillibrand campaign had something to do with the heckling?" asked host Steve Doocy.
"Tough to prove in a case of law, court of law, but who are these guys?" asked Turner. "What were they doing there? Concerned citizens? Give me a break."
The hosts later pointed out that Kirsten Gillibrand is "currently the Senator, one of the senators from New York state, and you would like her job."
Have a look, via Fox News:
Have a tip we should know? tips@mediaite.com