GOP Guest to Chuck Todd: 'Want to Be Careful' Firing Gov't Officials, It 'Feeds You People'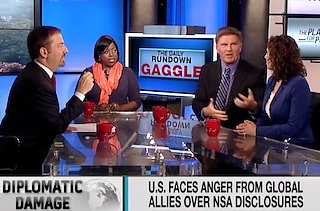 Former Governor Bob Ehrlich (R-MD) told Chuck Todd's Daily Rundown panel that firing a government official in the heat of the scandal was "red meat" to a hungry media, answering Todd's question about why the Obama administration was so surreptitious in dealing with officials who had earned public scrutiny or scorn—say, for instance, the NSA's General Keith Alexander.
"That's another thing about this White House," Todd said. "They don't like to fire people in the moment, but people then get fired five months later, they suddenly decide to leave. General Alexander, we all know he's leaving and they are trying to say it's not connected. Of course it's connected! Everybody in the intelligence community is furious at how he's managed the NSA."
"I hear this all the time: people in the White House say, 'We don't work on Washington's time frame,'" Associated Press' Julie Pace said. "So everyone in Washington is calling for someone to be fired, but we work on a different time frame. But you do run the risk of appearing like you're not handling an issue and taking it seriously."
"I've been in that position a little bit at the governor's level and you want to be careful about this stuff," Ehrlich said.
"You don't want to feed the wolves?" Todd asked.
"Feed you people," Ehrlich said.
"But you do eventually fire somebody, but you do like to wait?" Todd asked.
"You move them, quietly," Ehrlich said. "Because you all love that. It's red meat for you."
Watch the full clip below, via MSNBC:
[Image via screengrab]
——
>> Follow Evan McMurry (@evanmcmurry) on Twitter
Have a tip we should know? [email protected]