GOP House Candidate Mia Love Talks To Wolf Blitzer About Federal Spending, Encouraging Employment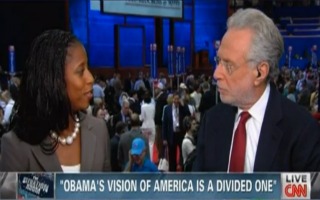 Utah Republican Congressional candidate Mia Love, who spoke before the Republican National Convention on Tuesday night to acclaim, sat down with CNN anchor Wolf Blitzer Tuesday for a wide-ranging interview. Love spoke with Blitzer about her background and policy preferences regarding government spending and welfare and unemployment benefits.

RELATED: GOP House Candidate Mia Love Impresses RNC Crowd With Fiery Speech
Blitzer asked Love if she was prepared for the enthusiastic reception she received from the RNC delegates in attendance. Love replied that the audience responded because she talked about "things that resonated," like her Haitian parents' immigrant backgrounds. Love opened up about her conversation to Mormonism.
Blitzer asked Love to define what she meant when she said President Barack Obama's America was a divided one. "If you think about the war on women, if you think about Joe Biden and his comments – I think those are racially divisive," said Love. "I deserve a president who sees me as an individual."
"You're saying he's got a war on women," Blitzer asked.
"No, he's said that Republican have–there's a war on women. I don't think so," Love replied.
Blitzer asked Love for her thoughts on the gender gap in which the President receives a significantly larger portion of the female vote and asked why Republican presidential nominee Mitt Romney is having trouble courting women voters.
"I think we're going to see, as a whole, Mitt Romney resonates with most Americans," Love replied.
Blitzer asked Love what she means when she says that most people want opportunity over handouts, noting that the economy is such that many people need a handout from the government in order to survive.
"Our policies discourage us from working," said Love. "What happens is that if someone goes out an gets a job, then they lose all of their benefits. And, so, we're discouraging people to get out and work."
"You have to scale it down," Love continued.
"How do you tell them, 'you know what, you're not going to get any more food stamps, unless you go out and work,'" Blitzer asked.
"You have to promote personal responsibility," Love replied. She said that work programs leading to gradually decreased benefits would accomplish that goal.
Love said her first priority in Congress would be to limit government and spending. "We're going to start looking at inefficiencies. We're going to look at programs that we don't necessarily need and then were going to start cutting back on that," Love concluded.
Watch the segment below via CNN:
> >Follow Noah Rothman (@Noah_C_Rothman) on Twitter
Have a tip we should know? tips@mediaite.com