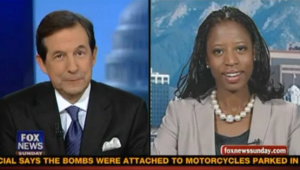 Saratoga Springs Mayor Mia Love, a Tea Party favorite and black Republican Mormon, impressed the Republican National Convention with her speech a few weeks ago. On Sunday, she paid a visit to Fox News Sunday's Chris Wallace to discuss her background, her take on various issues, and what she thinks will fix Washington.
RELATED: GOP House Candidate Mia Love Impresses RNC Crowd With Fiery Speech
Wallace began by noting that Love is running to become the first female black Republican congresswoman, asking how she got to where she is. Love attributed it to her upbringing.
"My parents immigrated from the country from Haiti with $10 in their pockets, and they worked hard for everything that they have," Love said. "My parents taught me that we weren't entitled to anything that we didn't own, earn, work for our pay for ourselves. And I've taken those principles over where I've gone. And that's how I ended up the way I am."
Wallace then provided a rundown of some of Love's proposals, which include cutting food subsidies and ending K-12 subsidies and college assistance. What happens, Wallace asked, to the millions to depend on those programs? Love said the program isn't set in stone, but something she hoped would spur a discussion. Then, more specifically, to pointed to the example of education and said she'd rather we focus on bringing the cost of tuition down. And that's possible if we bring issues to the state level and allow the private sector to play a role, she said.
Addressing the criticism of her own student debt, she said she wishes she had an option, and that she'd love to be able to put her children through college debt free. The housing market's turmoil foreshadows what the education situation will look like, she added.
Veering away from that topic, Wallace asked for Love's opinion on the so-called "war on women." Under the Obama administration, she said, women have suffered more — citing unemployment numbers among women. Federal government should allow women to keep more of their own money so they can choose to buy their own contraceptives, Love asserted. But the focus, she said, should be the economy.
Asked what she thinks of Washington, Love replied, "I think Washington's broken." At that point, she framed the election as a stark choice (much the way the Obama campaign has been): One side wants more taxes, more regulation and bigger government, while the other side champions small business, lower taxes and private sector job creation.
Love argued for the need to work together in Washington. "Where I come from, we run nonpartisan," she said. "We've got to be able to come together and find solutions instead of rhetoric."
Take a look, via Fox:

Have a tip we should know? tips@mediaite.com