GOP MSNBC Contributor: Obama Appears 'Lost' If He's In A Room 'And They're Not Chanting His Name'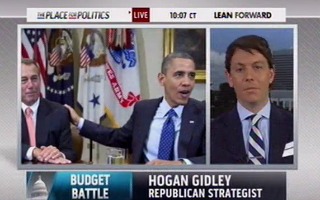 MSNBC contributor and the director of former Arkansas Gov. Mike Huckabee's Huck PAC, Hogan Gidley, appeared on an MSNBC to discuss the ongoing negotiations between President Barack Obama and Congressional Republicans to ease the impact mandatory budget cuts will have on the economy. He slammed the president for appearing 'lost' if he's not on the campaign trail being greeted by crowds "chanting his name."

RELATED: Game Changer?: CNN Airs Video Of Obama Golfing During Private Vacation
Democratic pollster Margie Omero said that the budget cuts in the sequester must be targeted if they are not going to be averted all together. She said that the nation's "most vulnerable folks" will suffer the most from these cuts, including nearly one million "women, mothers, and children."
MSNBC anchor Thomas Roberts asked Gidley if Republican opposition to tax increases was a political consideration, noting that GOP officeholders may have to fear a primary challenge if they raise the tax burden on Americans any further. Gidley agreed, but added that the GOP has already passed tax increases.
Gidley said there are two ways to get things done as a president: negotiate behind closed doors with the opposition or make your case to the people. He said that Obama has chosen the latter course.
"However, if he doesn't — if he's entering or leaving a room and they're not chanting his name, it's like he's lost," Gidley said. "He doesn't know what to do."
"It's well documented, his disdain for this process," Gidley said of the president's distaste for legislative horse trading. "He likes to issue his edict, issue his decree and let the Congress come along," he continued.
Watch the clip below via MSNBC:
> >Follow Noah Rothman (@NoahCRothman) on Twitter
Have a tip we should know? tips@mediaite.com