GOP PAC Spokesman Schools Chris Matthews On True Impact Of Money In Politics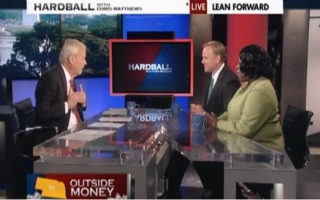 In a panel discussion on MSNBC's Hardball with Chris Matthews on a surprise, come-from-behind victory in the Republican Senatorial primary race in Nebraska where local rancher Deb Fischer defeated Republican Secretary of State Jon Burning, a conversation over the impact of money in politics became heated. In the end, a Republican Super PAC representative schooled Matthew's and his guest from the Center for American Progress on the impact of money in politics and how it results in a better informed electorate. He's right.

RELATED: Glenn Beck Savages Chris Matthews For Bad Performance On Jeopardy
Matthews played two pro-Fischer ads sponsored by the Ending Spending PAC for the committee's spokesperson, Brian Baker. He told Matthews that it was
"If money mattered, than one of these other candidates would have won," said Baker. "Of all the money spent in the race, one in every 10 dollars was spent for Deb Fischer. So it was her message of fiscal responsibility…"
"Those ads weren't about fiscal responsibility," said Matthews. "Those ads were trashing the opponents."
Daniella Gibbs Leger, a spokesperson for the Center for American Progress, said that Baker's organization's ads were able to capitalize on the fact that two more highly rated candidates were hammering each other in respective ads and ignoring Fischer.
Matthews reiterated his opposition to the rules that govern Super PACs, as opposed to campaigns, and asked Baker if he thought it was fair.
"I think it would be much better – I think a number of candidates had said this – if we didn't have limits at all to campaign's and it was fully disclosed," said Baker.
"Why don't we just call them auctions instead of elections," said Matthews, completely and willfully missing Baker's point.
Gibbs Leger mischaracterized Baker's point, saying that what he is advocating is "for the wealthiest people to have outsized influence in the process." To which Baker responded that all their donors are disclosed, as is required by law, and that CAP does not disclose its donors. Gibbs Leger says that's because they do not do any advocacy advertising on television. Here's their site. You tell me.
Furthermore, CAP didn't seem to mind money in politics all that much when natural gas billionaire T. Boone Pickens gave the group nearly $500,000 between 2008 and 2009 to support his company's Natural Clean Energy Project events.
The knee-jerk fear of money in politics – which buys information imparting advertising and counter advertising – is a good thing for politics. It leads to a smarter and more informed electorate.
The new normal that was unleashed in the 2010 Supreme Court decision Citizens United probably needs reform – but this can be achieved without amending the Bill of Rights which seems to be the default option for Congressional Democrats.
However, more money funding more information in politics is a good thing. Negative ads, as opposed to schmaltzy positive, biographical spots, are information dense. Negative ads contain nearly as much information about the candidate that they are supporting as they do about the candidate they oppose.
Furthermore, they have the added wild-card value of having the potential to backfire. A negative ad can redound negatively on the campaign that sponsors them – just ask failed Republican Senate candidate Elizabeth Dole, who's ad "Godless" was such a reach that it nearly single handedly sunk her campaign. Sen. Rand Paul (R-KY) is probably quite happy that Kentucky's Democratic Attorney General Jack Conway's 2010 Senate campaign decided to run with "Aqua Buddha." These ads helped doom their respective campaigns, and told voters a lot about the candidate in question.
Here's to a world where there will be more, not less, of these negative ads. Voters love to tell pollsters that they hate negative ads – as a resident of New Jersey, a state that routinely ranks worst in ratings of the civility of its political campaigns – I can tell you, I've seen my share of negative ads. Having covered the business of politics, I also know the research that goes into those ads and the information they impart. Negative ads, and the organizations that sponsor them, run a great risk by putting them out and they can reap great reward for them. That is a good thing.
But none of this was Baker's point — he said clearly that the money was backing the loser in Nebraska's Senate primary. That didn't seem to register with Matthews who had a conclusion that he preferred reinforced rather than challenged. The belief that voters are equipped to seek out information on candidates and make intelligent decisions is a sentiment expressed by many but practiced by few when the subject of private money in politics comes up.
As MSNBC's own Rachel Maddow says in a "Lean Forward" ad promoting her channel, money can buy a lot in politics but it "cannot buy your vote." The reflexive fear of private money in politics is groundless, as Mr. Baker proved to the MSNBC viewing audience – if not Matthews himself.
Watch the segment below via MSNBC:
Have a tip we should know? tips@mediaite.com