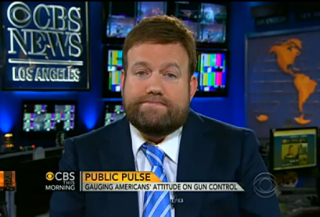 According to a new profile piece in The Atlantic, GOP pollster and frequent Fox News contributor Frank Luntz sunk into a depression following the 2012 election in which President Obama won re-election over Republican candidate Mitt Romney.
Luntz described himself as "less healthy now than [he has] ever been in [his] life," sleeping two or three hours at a time and fretting over the future of his career in political consulting. The Atlantic's Molly Ball wrote:
The crisis began, he says, after last year's presidential election, when Luntz became profoundly depressed. For more than a month, he tried to stay occupied, but nothing could keep his attention. Finally, six weeks after the election, during a meeting of his consulting company in Las Vegas, he fell apart. Leaving his employees behind, he flew back to his mansion in Los Angeles, where he stayed for three weeks, barely going outside or talking to anyone.
"I just gave up," the pollster said. After the election, he seemingly realized Americans want to "impose their opinions rather than express them," and that a divided country will find it harder to warmly receive his conservative sales pitches.
"I'm not good enough," he said. "And I hate that. I have come to the extent of my capabilities. And this is not false modesty. I think I'm pretty good. But not good enough."
"The old Frank Luntz was sure he could invent slogans to sell the righteous conservative path of personal responsibility and free markets to anyone," Ball wrote." The new Frank Luntz fears that is no longer the case, and it's driving him crazy."
According to the profile, Luntz is considering breaking into Hollywood as a consultant, as he no longer works any existing political contracts and has apparently submitted many pitches to studios.
Read the full profile here.
— —
>> Follow Andrew Kirell (@AndrewKirell) on Twitter
Have a tip we should know? tips@mediaite.com