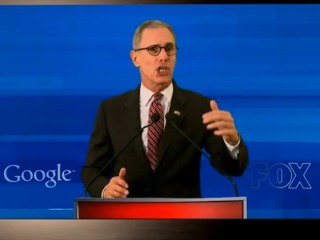 Fred Karger, man. We don't hear too much about him in most mainstream outlets, but, if you follow him on Twitter, you'll know that he's been intently watching the Republican debates right along with all of us — and that he's not too thrilled about not having been able to participate.
In his new campaign ad, however, Karger finally gets the chance to weigh in on a GOP debate — specifically the recent Fox News / Google debate that's very likely best remembered for the booing that occurred after a soldier named Stephen Hill posed a question about the future of gay men and women in the military. And, if Michele Bachmann's reaction to his speech in the video is any indication, he did a pretty good job of expressing himself.
RELATED: Rick Santorum On Gay Soldier Booed During Debate: 'Did Not Hear Those Boos'
In the ad, Karger also takes a direct swing at both Fox News and Rupert Murdoch while also taking an opportunity to mention his ties to former President Ronald Reagan:
When my old boss Ronald Reagan ran for president 30 years ago, he wanted all Republicans included at the presidential debates. Now, Fox News and Rupert Murdoch refuse to let me debate. When I met their qualifications, they changed the rules. That's just not fair. An important voice is not being heard.
RELATED: GOP Presidential Hopeful Fred Karger Files A Complaint Against Fox News
Later on in the video, Karger announces that "I will not be silent. An America service member was just booed. We should never, ever treat a member of the military that way."
Have a look for yourselves and let us know what you think:
Have a tip we should know? tips@mediaite.com