GOP Rep. Accuses NY Times of 'Laying Groundwork' for Hillary 2016 with Benghazi Report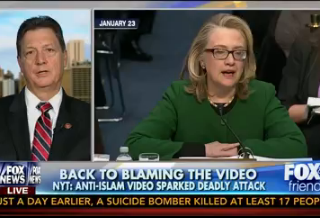 The New York Times' exhaustive investigation into the 2012 attack on the U.S. consulate in Benghazi, Libya continues to have ramifications Monday morning as one Republican member of the House Intelligence Committee is accusing the paper of running the story to help Hillary Clinton's potential 2016 presidential campaign. Rep. Lynn Westmoreland (R-GA) told Fox & Friends' Steve Doocy that the Times piece is "laying the groundwork" for Clinton's run.
"I don't know why they put it out unless it was for political reasons," Westmoreland said of The New York Times, which disputed the previous suggestion that al-Qaeda or an affiliated terrorist group had been behind the attack. Apparently speaking for the House Intelligence Committee, he added, "We thoroughly dispute that story as far as the link to al-Qaeda."
"Of course, Secretary Clinton was in charge at the time and there is just now a lot of rumors going and pushing about her running for president in 2016," Westmoreland continued. "So I think they're already laying the groundwork. We are not quite as used to this kind of political machine as the president and the Clintons have. So I think they're just laying the groundwork, trying to absolve her from the lack of security that was sent over there, the number of requests for security that was turned down. So I think they're trying to take the pressure off her and the administration, quite frankly."
According to Doocy, Westmoreland's comments "echo" what emails to Fox News are saying: "Sure kind of smells fishy."
Fox News Sunday host Chris Wallace made a very similar suggestion yesterday when he asked House Intelligence Committee Chair Mike Rogers (R-MI) if the Times story was intended to "clear the deck" for Clinton's presidential run. Unlike Westmoreland, Rogers opted not to "speculate" on the timing or motive of the investigation.
Watch video below, via Fox News:
[h/t The Hill]
[photo via screengrab]
— —
>> Follow Matt Wilstein (@TheMattWilstein) on Twitter
Have a tip we should know? [email protected]