GOP Rep. Baffles CNN's Burnett: You'll Raise Debt Ceiling for a 'Few Weeks But Not a Couple Months?'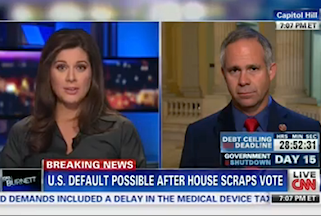 CNN's Erin Burnett couldn't quite believe what she was hearing Tuesday evening when she interviewed Rep. Tim Huelskamp (R-KS) about his decision to vote against a proposed measure from House Speaker John Boehner (R-OH) that would fund the government through mid-December and raise the debt ceiling until February. When the congressman laid out the criteria he was apparently using to make his decision, she asked in disbelief, "you're saying you'll vote for a bill that extends the debt ceiling for a few weeks but not for a couple of months?"
Though he never got a chance to cast his vote after the bill was scrapped, Huelskamp declared that he was going to vote against it because it raised the debt ceiling without imposing any spending cuts. "It's time for us to get our act together and move forward on facing the fundamental problem of spending too much money," he said.
Huelskamp also cited the "fairness" issue, in which members of Congress and staffers would be subject to the same rules as the rest of Americans, something Boehner did include in his deal. "I'm trying to understand why you vote against the bill the speaker had on the table," Burnett said. "If it had that fairness issue on the table… why would you have voted against it?"
"It was going to raise the debt ceiling hundreds of billions of dollars with no change in spending" he answered, matter-of-factly.
Burnett reminded him that any deal will need to raise the debt ceiling, which led to Huelskamp saying he was open to raising it for three weeks, as a previous deal suggested, but not until next year. "So, you're saying you'll vote for a bill that extends the debt ceiling for a few weeks but not for a couple of months?" she asked. "That's really all it came down to?"
Huelskamp did not dispute that characterization, before moving on to his objections to the Affordable Care Act. Towards the end of the interview, Burnett brought up a tweet Huelskamp sent to Sen. Ted Cruz (R-TX) earlier in the afternoon, and asked about the senator's role in the negotiations.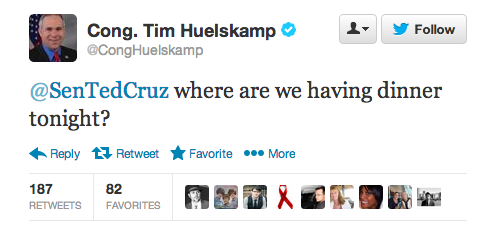 "There seems to always be interest in Washington, D.C. and the chattering class about who eats supper with whom," Huelskamp said, dismissing the significance of his relationship with Cruz, "and that's a little joke that apparently inside-the-beltway-media might get and rest of America misses."
Watch video below, via CNN:
[photo via screengrab]
— —
>> Follow Matt Wilstein (@TheMattWilstein) on Twitter
Have a tip we should know? [email protected]