GOP Rep. Calls for Clean Funding Bill on CNN, Says More Republicans to Follow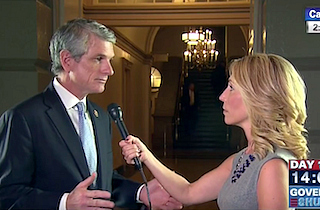 Representative Scott Rigell (R-VA) told CNN's Dana Bash Tuesday afternoon that he was calling upon Speaker John Boehner (R-OH) and his colleagues in the House of Representatives to pass a clean continuing resolution to end the government shutdown, arguing that the economic and civic effects of closing the government were greater than the rewards of delaying or defunding ObamaCare.
"I'm very proud of the efforts that we advanced to stop the Unaffordable Care Act," Rigell said. "But now we're at a point of: what are we fighting for? The delay of only one year of the individual mandate, and also the elimination of some subsidies. The question is, does that objective, when measured up against the pain, both economic and the damage being done to our military, including a full shutdown of reserve operations—you try to balance those out, and I don't think the continued shutdown advances our conservative agenda."
Bash suggested that Rigell was one of only a handful of representatives who felt that way, but Rigell insisted there were far more.
"There are at least seven or eight of us," Rigell said. "I'm convinced there's probably double that. Some members just haven't come public."
"Look, I've got an obligation to advance the policies that I think are best for our country," Rigell said. "But the question is, does a shutdown—hurting the American people, our economy, including so many of whom are in the Virginia second congressional district, keeping our country safe—is that pain level justified, given the objective? My conclusion is no."
Rigell added, "The people that ought to be experiencing pain as a result of the shutdown are not the American people, but the Democrats in the Senate who have been intransigent, and have not demonstrated any willingness whatsoever to negotiate."
Watch the full segment below, via CNN:
[Image via screengrab]
——
>> Follow Evan McMurry (@evanmcmurry) on Twitter
Have a tip we should know? tips@mediaite.com