GOP Rep. Cites CNN Story About HealthCare.gov Being Hacked, Gets Corrected by CNN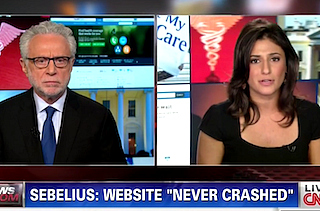 Representative Michael Burgess (R-TX) surprised Health and Human Services Secretary Kathleen Sebelius during her testimony on Wednesday when he cited a CNN.com article that claimed HealthCare.gov had been hacked last week. Sebelius' "huh?" expression wasn't read into the congressional record, but Burgess promised to follow up with her on the article.
After the hearing, however, anchor Wolf Blitzer said Burgess' takeaway of the article "wasn't exactly precise," and had CNN Money's Laurie Segall explain what the article had really been about: potential security lapses in the website that could allow hackers to gain access.
"At CNN Money we put an article out that essentially said that theoretically, with a string of vulnerabilities available on the website, someone could theoretically get in and reset your password," Segall said.
"For anyone kind of hacking and social engineering here, if they have your e-mail, they can easily plug it into the internet, plug it in to social media, and find out sensitive information about you that would enable them to likely be able to answer those security questions," Segall continued. "So, it's a lot of theoreticals, but I will tell you this: talking to folks in the hacker community, this kind of thing is very easy for people to do, and they don't have to be that tech savvy. I spoke to one of the guys who found some of the vulnerabilities. He said that he's been looking at the code, and it's riddled with vulnerabilities."
"The conversation we're having now is the site's just not working," Segall said. "The conversation I guarantee we will be having is the security flaws in the system."
Watch the whole clip below, via CNN:
[Image via screengrab]
——
>> Follow Evan McMurry (@evanmcmurry) on Twitter
Have a tip we should know? tips@mediaite.com