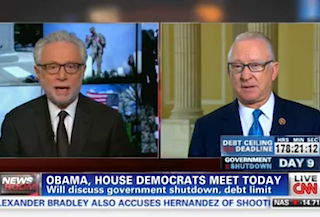 Secretary of Health and Human Services Kathleen Sebelius is keeping quiet about exactly how many people have successfully signed up for insurance on the Affordable Care Act's online exchanges so far, but it has to be more than 10, right? During an appearance on CNN with Wolf Blitzer earlier today, Rep. Buck McKeon (R-CA) made the bold claim that total signups were in the "single digits."
"I heard that they've had over eight million hits, people that have tried to sign up, and so far they have people in the single digits that have signed up," McKeon told Blitzer, citing anonymous "bipartisan" sources. "Now, obviously there is something very wrong there."
Blitzer pushed back, responding incredulously, "When you say single digits, I'm not exactly clear what you mean by that."
"Single digits would be less than ten," McKeon replied, matter-of-factly. He clarified that he read that fact in an article in Forbes today, possibly referring to an this piece from last Thursday that quoted an anonymous insurance industry official.
Blitzer, who still couldn't believe what he was hearing, asked if McKeon really believed that less than 10 people have signed up for the plans "nationwide."
"That was one statement that I read," McKeon said, adding that he also heard on the radio that 565 people had signed up in Maryland, putting his "single digits" theory in question. "In other words, it's a very small number and it's because it's a lot more difficult than what we were told it would be," he concluded.
As POLITICO's Hadas Gold reported, when Blitzer returned from commercial, he clarified that while "we're not going to get any numbers from the federal governments at least so far… Three states have so far released official numbers–-Kentucky, Maryland and Washington State. In those three states they say 16,724 so far have enrolled for Obamacare–that's more than single digits obviously."
Watch video below, via CNN:
[photo via screengrab]
— —
>> Follow Matt Wilstein (@TheMattWilstein) on Twitter
Have a tip we should know? tips@mediaite.com