GOP Rep. Confronts Ousted IRS Chief About Scandal, Gov't 'Drunk On Power': 'Is This Still America?'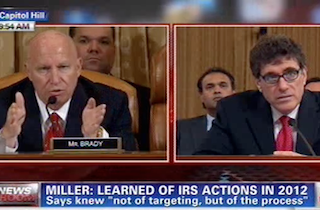 The House committee hearing about the IRS scandal got a bit heated this morning when Rep. Kevin Brady (R-TX) confronted the agency's outgoing commissioner Steven Miller. Offering the example of a woman who faced "intrusive" questioning about a Tea Party group from the IRS, Miller railed against a government "drunk on power." He asked, "Is this still America?"
Brady spoke of a Tea Party group in his community, whose founder filed for tax-exempt status in 2010 and received many "intrusive" questions, which she answered, from the IRS in 2012. Still her application is pending, he said.
"She received four FBI inquiries. And her business received unsolicited audits, unscheduled audits," Brady informed.
"Now, this is a citizen and a small businesswoman who had never been audited by the IRS or any of these agencies until she applied to you for tax-exempt status for her Tea Party. The broader question here: Is this still America? Is this government so drunk on power that it would turn its full force, its full might, to harass and intimidate and threaten an average American who only wants her voice and their voices heard? Mr. Miller, who in the irs is responsible for targeting conservative organizations?"
Miller rejected the term "targeting" for being too loaded, and — asked again for which individuals are responsible for the "be-on-the-lookout list" — replied, "I don't have names for you." But that he's willing to figure it out.
"Can you assure this committee that none of the information provided to the IRS by these groups was shared or given to any other federal agency?" Brady later asked.
"That would be a violation of law," he replied, "and I do not believe that happened."
"I would be shocked, congressman, if that happened," Miller reiterated. "Shocked."
Watch below, via CNN:

Have a tip we should know? tips@mediaite.com