GOP Rep. Contradicts Boehner: 'Votes are There' for 'Clean' Continuing Resolution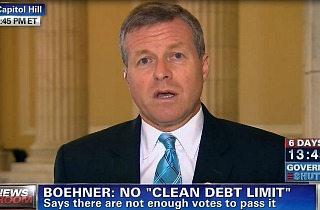 Appearing on CNN with Wolf Blitzer, Rep. Charlie Dent (R-PA) contradicted statements made by House Speaker John Boehner (R-OH) over the weekend who claimed that there were not enough votes in the lower chamber of Congress to pass a "clean continuing resolution." Dent said the votes were there and that Boehner was trying to "conflate" the CR with the debt ceiling.

"I am going to insist that the speaker try to bring out a clean continuing resolution to the one I said I would support," Dent told Blitzer.
He said that there was enough support in the House to get a motion through congress which would fund the government for six months and repeal the medical device tax within the Affordable Care Act. Barring that, Dent said, he would also support a "clean" continuing resolution.
"I would urge the speaker to bring it out for a voter," Dent insisted.
RELATED: Boehner Warns Stephanopoulos U.S. Will Default Without Deal: 'It's the Path We're On'
Blitzer asked Dent if a clean CR would pass the House. Dent said that, according to the Washington Post, 20 GOP House members would support that measure. Dent said that there are more who have not come out in favor of such a move, but would support a clean CR if it was put to a vote.
"I believe the votes are there," he added. "I suspect the reason why it's not being brought out because it may violate the Hastert rule."
"That, or the fact that the speaker wants to conflate – he wants to conflate the debt ceiling and the continuing resolution,"
Watch the clip below via CNN:
[Photo via screen grab ]
— —
> >Follow Noah Rothman (@NoahCRothman) on Twitter
Have a tip we should know? tips@mediaite.com