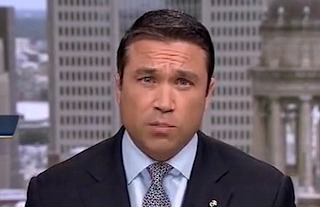 After a testy exchange with CNN's Jessica Yellin last night, Republican New York Congressman Michael Grimm defended his sudden switch from supporting to opposing the authorization for use of military force in Syria on Fox News Friday morning, answering to host Bill Hemmer, who said he had "a lot 'splaining to do."
Grimm more emphatically attacked Obama's handling of the preparation for a strike, arguing that the president had "lost his resolve," and could no longer legitimately command U.S. troops.
"What's changed the most is the president's leadership has degraded," Grimm said. "As a U.S. Marine, as a member of Congress, I wanted to support our Commander in Chief, but it seems like he's done just about everything he can to bungle this. I really have lost faith in his ability as the Commander in Chief to handle this crisis in Syria."
Grimm doubted Obama's urgency in not calling Congress back into session, and the lack of scope of the resolution, which Grimm feels would not do enough to affect Assad's military capabilities.
"I wanted him to call us back for a special session, and have Congress act immediately before Assad starts moving his cache of whatever weapons he has to hospitals and Mosques and schools or wherever else," he said.
"The window to restore our credibility has already already closed. The other thing is, I don't believe the President has the resolve to make this a meaningful enough strike to really send a message, not only to Assad, but to our enemies in Iran as well. I think when [Obama] stepped back from his red line comment it was a sign and a symbol to the American people that he is not keeping the leadership role as the Commander in Chief that he was playing initially, and he himself is losing his resolve."
Grimm also didn't believe the U.S. could keep boots off the ground, which was driving the unpopularity of the measure. "The cost ends up being American lives at some point," he said.
Watch the full interview below, via Fox News:
[Image via screengrab]
——
>> Follow Evan McMurry (@evanmcmurry) on Twitter
Have a tip we should know? tips@mediaite.com