GOP Rep. Gives Emotional Appeal to Remove Confederate Flag: 'Enough About Heritage'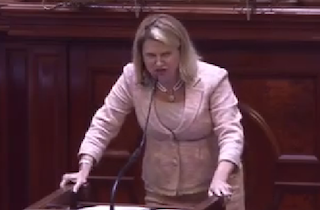 Representative Jenny Horne (R) took the the floor of the South Carolina House of Representatives Wednesday night and delivered an impassioned appeal that the House follow the state Senate's example and vote to remove the flag from a memorial before the statehouse.
Horne was actually arguing that the bill to remove the flag not be amended, which would send the debate into a protracted conference session and leave the flag flying. The clock is ticking: the local chapter of the Ku Klux Klan has planned a rally in support of the flag to take place less than two weeks from now, a visual everyone wants to avoid.
"I cannot believe that we do not have the heart in this body to do something meaningful such as take a symbol of hate off these grounds on Friday!" Horne said. "And if any of vote to amend, you're ensuring this flag will fly beyond Friday. And for the widow of Senator [Clemanta] Pinckney and his two young daughters, that would be adding insult to injury! And I will not be a part of it!"
"I'm sorry," she continued, "but I have heard enough about heritage. I have heritage. I'm a lifelong South Carolinian. I am a descendent of Jefferson Davis, okay? But that does not matter. It's not about Jenny Horn! it's about the people of South Carolina who have demanded that this symbol of hate come off of the state grounds!…This issue is not getting any better with age! Thank you."
The House ended up voting to remove the flag after hours of debate. Governor Nikki Haley (R), who started the push to remove the flag after the assassination of nine African-American churchgoers last month, is expected to sign the bill.
Watch below, via C-SPAN:
[Image via screengrab]
——
>> Follow Evan McMurry (@evanmcmurry) on Twitter
Have a tip we should know? tips@mediaite.com