GOP Rep. Grills Planned Parenthood Prez: If You Did Nothing Wrong, Why Apologize?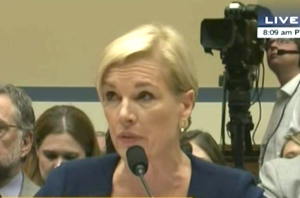 Planned Parenthood president Cecile Richards got into a heated debate during a congressional hearing, when Ohio Republican Congressman Jim Jordan asked her why she apologized after the first undercover video was released, only to later double down.
"Ms. Richards, if the videos were selectively edited, if this was entrapment, if this was all untrue, then why did you apologize?" he asked.
"Well, Congressman, first, I think everyone has agreed they were heavily edited–" Richards began.
"My question is, why did you apologize?" Jordan cut in.
Richards eventually said that she decided to apologize after the first undercover video because "it was inappropriate to have a clinical discussion in a nonconfidential, nonclinical setting."
"You said this: 'It is unacceptable. I personally apologize for the tone and statements,'" Jordan read off. "Here's the question: what statements were you apologizing for?"
"Were you apologizing for statements that were untrue?" he continued to press. "Because you normally don't do that in life. If something's untrue and false, you don't apologize for that. You correct the record."
"Congressman, at the time as I'm sure you remember, that video was released. We have had no time to actually evaluate how much editing had happened," Richards said. "It was days later."
The discussion predictably degenerated into a shouting match, with witness and congressman alike trying to shout above each other. "You can't have it both ways. You can't say I'm apologizing for statements in one video and then not tell us what those statements were," Jordan said.
Eventually Richards simply said, "We may have to just agree to disagree on this matter."
"I don't think we need to agree on to disagree," Jordan shot back. "I think you're not answering my question."
Watch above, via C-SPAN.
[Image via screengrab]
——
>>Follow Alex Griswold (@HashtagGriswold) on Twitter
Have a tip we should know? tips@mediaite.com