GOP Rep. Interrogates Clinton About YouTube Video Claim, What Obama Knew And When About Benghazi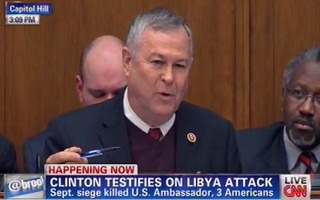 During the House portion of Secretary of State Hillary Clinton's testimony, Rep. Dana Rohrabacher (R-CA) engaged in a detailed interrogation of Clinton regarding her knowledge of the role an inflammatory YouTube video played in inciting the Benghazi attacks – a claim made repeatedly by Obama administration officials in the days immediately following the attack. Rohrabacher also pressed Clinton to disclose when, if ever, she briefed President Barack Obama on the situation in Benghazi.

"When did you see the president?" Rohrabacher asked.
"I talked to the president at the end of the day, but I had been in constant communication with the National Security Advisor. I'd been secure video conferences with high level officials in the White House, in the Defense Department," Clinton replied.
Rohrabacher asked about testimony delivered by Deputy Assistant Secretary of State Charlene Lamb who claimed that she watched the attack unfold in a live video stream. "At any time, did you see the initial attack on a monitor," Rohrabacher asked.
"There was no monitor, there was no real time," Clinton answered. "I may be going beyond my brief here, but she was on an open – she was talking to DS people who were trying to understand what was going on."
Rohrabacher replied that Admiral Michael Mullin, former Chairman of the Joint Chiefs of Staff, testified that he had also witnessed a video of the attack unfolding. Clinton countered by saying that both were probably referring to a classified surveillance video from the compound taken while the attack was unfolding.
"As you were dealing with the crisis as it went on, did you think or act on the basis that this was a film protest gone out of control – and when you briefed the president, did you tell him that – or did you tell him, which Admiral Mullin suggests you knew by then, that this was a well planned and executed terrorist attack," Rohrabacher asked.
"I said the next morning that it was an attack by heavily armed militants. The president said the next morning that it was an act of terror," Clinton replied.
"We all remember what the emphasis was," Rohrabacher interrupted. He asked why the administration repeatedly blamed a YouTube video for those attacks, implying that Americans were to blame for that event, and the only person being held accountable is the filmmaker of that video who is presently in jail.
Clinton answered saying that both she and the president classified the attack in Benghazi as a terrorist event. "I think there is still, however, questions about exactly what caused it, who the attackers were," Clinton said.
Watch the exchange below via CNN:
> >Follow Noah Rothman (@NoahCRothman) on Twitter
Have a tip we should know? tips@mediaite.com