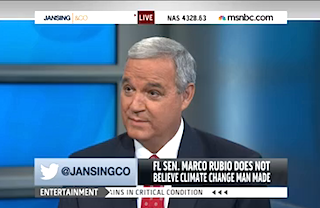 Last month, Sen. Marco Rubio (R-FL) made news by publicly declaring that he does not believe in man-made climate change. Then Gov. Rick Scott (R-FL) deflected the issue by saying, "I'm not a scientist." So when his Rep. Jeff Miller (R-FL) was on MSNBC Monday morning, host Richard Lui asked him if he agrees with his colleagues.
When presented with a poll that shows Florida residents trust scientists over Rubio on climate change by a margin of 23 points, Miller said, "Well, I think anybody would answer a poll and say that they believe the scientists, but you have to understand that it is not settled science."
"The issue of climate change has been happening for a long time, and for us to be able to think that we, as matter of fact, can change what's going on right now to any substantive measure is really kind of foolish in my opinion," Miller added.
While Miller insisted he's "never said" that the climate isn't changing, he generally does not see it as a problem. "It changes. It gets hot, it gets cold, it's done it for as long as we've measured the climate," he said.
"For us to say that it is a settled argument right now, I think that again, it is a foolish argument to make," Miller concluded, "because there are scientists on both sides of the issue that say it is not settled."
HBO's John Oliver would likely disagree, as he recently demonstrated that there are actually more than 97% of scientists on one side who do believe the science is "settled," with less than 3% on the other who don't.
Watch video below, via MSNBC:
[h/t TPM]
[Photo via screengrab]
— —
>> Follow Matt Wilstein (@TheMattWilstein) on Twitter
Have a tip we should know? [email protected]