GOP Rep Lamborn Pushes Bill to 'Save Christmas,' Fox & Friends Hosts Thank Him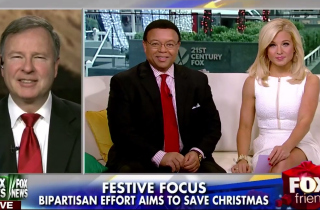 Rep. Doug Lamborn (R-CO) appeared on Fox & Friends Tuesday morning to discuss his new "bipartisan resolution to save Christmas," which was positively received by the show's fill-in hosts.
According to Lamborn, H.Res. 448 states that "we should, as a country, protect the symbols and traditions of Christmas and not put up with any attempts to ban symbols and traditions of Christmas."

Fill-in host Anna Kooiman applauded the effort, citing how it would "protect" everyone's ability to "say 'Christmas'" or publicly display nativity scenes. She asked the lawmaker whether it's "gotten more out of hand by the year"
"There's a vocal minority that is offended at the rest of us who want to celebrate Christmas," Lamborn said. "Christmas is obviously a cultural and historical celebration, but also a religious celebration, and just because someone is offended doesn't mean they can shut down the religious celebration or acknowledgment of every other American. That tramples on the rights of those Americans."
Later in the interview, Lamborn explained that he is "encouraged and inspired by all faith traditions," and that "if someone says Happy Hanukkah, I apply it to my own religion." Citing that "we live in a pluralistic society," Lamborn explained his belief "we need more tolerance of diversity and pluralism of society."
His resolution, which would not be enforceable by law, does not mention or "protect" any holiday aside from Christmas.
At the conclusion of the segment, both hosts Kooiman and Kelly Wright thanked him for introducing the resolution.
Watch below, via Fox:

[h/t RawStory]
— —
>> Follow Andrew Kirell (@AndrewKirell) on Twitter
Have a tip we should know? tips@mediaite.com