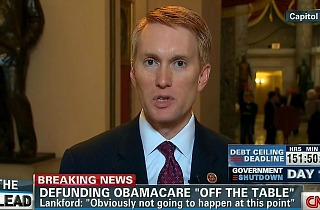 The government shutdown was initially precipitated when House Republicans refused to pass a continuing resolution to fund the government which also funded the implementation of the Affordable Care Act. Today, that demand is "off the table," according to Rep. James Lankford (R-OK). On Thursday's The Lead, Lankford said that House Republicans have moved on to insisting on delaying the penalties associated with the Affordable Care Act for one year.

CNN host Jake Tapper began by asking Lankford why, if the House is now considering passing a temporary increase in the debt ceiling, they do not also pass a short-term resolution to fund the government which could pass the Senate.
"We'd be glad to," Lankford replied. "That's part of why we're sitting down and negotiating the president today."
"This is where we've been for ten days," he continued. "That's the frustrating part." Lankford said that the GOP has been requesting negotiations with the Senate Democrats and the president for more than one week to reopen the government.
"Well, it all started because House Republicans linked the complete defund of Obamacare to government spending. What ever happened to that?" Tapper asked. "Is that just off the table now?"
"That's currently off the table," Lankford said.
He added, however, that there are a number of problems with the implementation of the ACA and that penalties for non-compliance with the individual mandate need to be delayed for one year.
"The problems with Obamcare is something I would be covering much more if I weren't covering the government shutdown and this threat of default," Tapper said.
Watch the clip below, via CNN:
[Photo via screen grab]
— —
> >Follow Noah Rothman (@NoahCRothman) on Twitter
Have a tip we should know? tips@mediaite.com